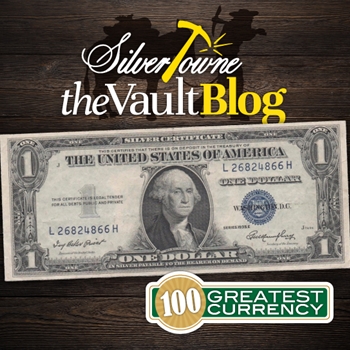 If you could not tell, we love the '100 Greatest' series by Whitman Publishing. Numismatics is a grand landscape full of coins, new and old, medals, and currency. There is so much to learn in the hobby, no matter how long you have actively been a part of it. Likewise, these books provided and published by Whitman with a number of different topics at hand are also a great tool to learn from. We love them here at SilverTowne and that is exactly why we have decided to explore their lists and relay that message to our customers and supporters. If anything, you will find numerous numismatic items you have never heard of or did not know how important they were to the hobby.
Our next breakdown of a 100 Greatest series features American Currency Notes. Paper currency was first issued in the Americas by the Massachusetts Bay Colony back in the late 1600s. It is safe to say that there have been numerous issues, denominations, series, and more when it comes to currency.
This blog series is aimed at following along with those top currency notes throughout the years. In conjunction with authors Q. David Bowers and David M. Sundman, we will look at the list compiled by collectors, writers, and dealers who make it their business to know everything about currency. From Confederate notes to federal notes and obsolete notes, this series will break down every choice made including their historical values.
Stay tuned for the first of many to come from the brand new 100 Greatest American Currency Notes blog series!