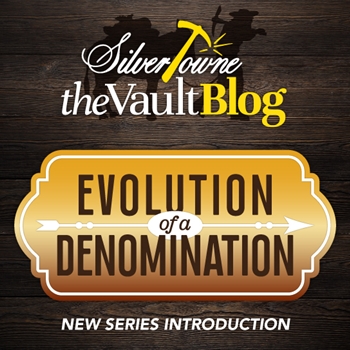 We talk a lot about different coins in the blog series "100 Greatest U.S. Coins" as we break down Whitman Publishing's popular fourth edition publication by authors Scott Schechter and Jeff Garrett. United States coinage is thorough and detailed and constantly changing, especially back in the days where coinage was highly revered and sought after when Mint branches were producing coins across the country. But have you ever wondered how we got to the coins we currently use today? Their designs, their denominations, their creators, their reasons for existence? Us, too. That is why we have decided to explore the answers to these questions and then some.
In our brand new blog series "Evolution of a Denomination," we will look into the past that brought us our future when it comes to United States coinage. Cents, nickels, dimes, quarters, half-dollars, dollars. They are what they are today, but why? We will look into the very first of their kind and bring you through the different coinage changes, designs and their creators, and even the laws that changed their direction. There is no doubt that Presidents and politicians alike played their part in addition to the changing world and developing parts of the country that shifted productions from the East Coast to the West Coast.
Stay tuned to our very first of this series and the many to follow at The Vault Blog!