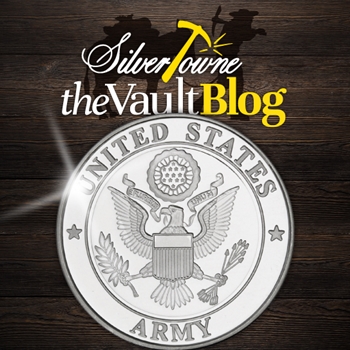 "The soldier is the Army. No army is better than its soldiers. The soldier is also a citizen. In fact, the highest obligation and privilege of citizenship is that of bearing arms for one's country." -George S. Patton Jr.
As a soldier in the Army, one has to be prepared both physically and mentally. That is what makes it one of the strongest forces in the world. Those who choose to sacrifice themselves and lay their life on the line for the good of the United States of America are heroic, are dedicated, and the most respected individuals out there. From the Revolutionary War to today, American soldiers past, present, and future should be honored and celebrated for their fight and their bravery in the toughest battles this country has and will face.
May happens to be Military Appreciation Month and we wanted to choose a Silver of the Month option that would coincide with the important holidays and awareness days that honor the service and sacrifice of those brave men and women who answer the call for their country. Not sure what the Silver of the Month means? We have you covered.
Do you like free shipping? Of course, you do. Do you like the opportunity to get silver without having to buy more than what you want? Who doesn't? Welcome to our unofficial official silver of the month club where you do not have to sign up or enter any more information than necessary. All you have to do as a loyal SilverTowne customer is scroll to the bottom right of the homepage to figure out what piece of silver is featured each month and boom, you are in!
Custom minted at our very own SilverTowne Mint in rural Indiana, this .999 fine silver medallion honoring the United States Army is exclusive to SilverTowne. The obverse of the design features the U.S. Army emblem and the words "UNITED STATES ARMY." The reverse features our standard non-dated back with the weight (ONE TROY OUNCE) and purity (.999 FINE SILVER) designated around the area left blank for optional engraving.
Your U.S. Army silver medallion will arrive in a protective plastic capsule to ensure that it arrives to you safely. It will fit securely inside a premium dark grey foam insert that will be housed in our exclusive SilverTowne gift box with natural kraft paper made from recycled materials within the United States. To complete your purchase, choose from a number of outer box sleeve options featuring the Pledge of Allegiance, American Flag, and many more upon checkout that will suit your needs!