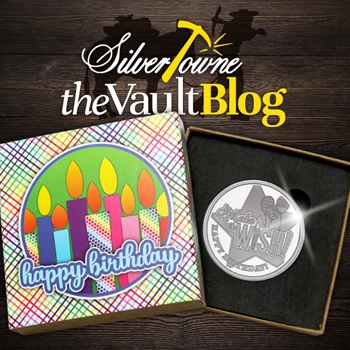 While the world seems to have been slowed to a stop, there are a number of things that cannot be celebrated, unfortunately. However, special people in your life may still be celebrating birthdays and among some of the small things you can still do for them, gifting them silver is definitely one of them. It may be perhaps one of the best things you can do for them!
It just so happens, for this month of April in 2020, we have decided to make our Silver of the Month a birthday medallion for those who want to celebrate that someone special with the gift of silver! We know its hard to celebrate the way a lot of people are used to, but this unique gift idea is perfect for saying how much you care about them during these trying times. Not sure what exactly the Silver of the Month means? Please continue to read.
Do you like free shipping? Of course, you do. Do you like the opportunity to get silver without having to buy more than what you want? Who doesn't? Welcome to our unofficial official silver of the month club where you do not have to sign up or enter any more information than necessary. All you have to do as a loyal SilverTowne customer is scroll to the bottom right of the homepage to figure out what piece of silver is featured each month and boom, you are in!
Whether we can have a party or not, birthdays are an annual milestone for everyone! Celebrate today with this .999 fine silver medallion that features festive balloons and a birthday candle for the very special person!
Custom minted at our very own SilverTowne Mint in Winchester, Indiana, this .999 fine silver round is exclusive to SilverTowne. The obverse features the words "Make a Wish!" with the letter "i" doubling as a birthday candle. The words "HAPPY BIRTHDAY!" can also be seen inscribed atop a mirror-like background that features a large star and a bundle of birthday party balloons! The reverse features our standard year-dated back with the weight (ONE TROY OUNCE) and purity (.999 FINE SILVER) designated and displayed around the special area left blank for optional engraving!
Your celebratory round will arrive in a protective plastic capsule inside of our in-house designed SilverTowne gift box with natural kraft paper made from recycled materials within the United States. The medallion will fit snugly inside of a premium dark grey foam insert that fits snugly inside the gift box. Top the gift off with a custom-fitted outer box sleeve that says "Happy Birthday" with candles atop a colorful plaid background. There are also a number of alternate packaging options available upon checkout to choose from!