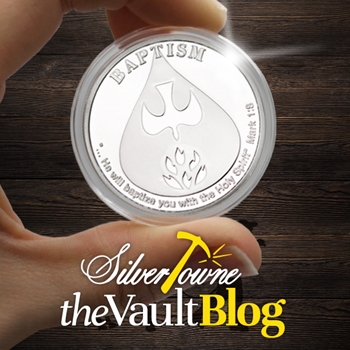 Easter is just over a month away and we have been selling our themed-bullion pieces left and right. While hopping bunny rabbits and baskets full of candy are what is mostly thought of this time of year, especially when you have young children, let us not forget what it is really about: the Resurrection of Jesus Christ.
So in addition to our fun, bright Easter-themed silver bullion options, we also happen to offer religious silver in bars and rounds. While the religious-themed silver is available year-round, it makes sense that it is also offered this time of year and happens to do well because of it. We have a wide selection that features both enameled, plain, and 2pc gift sets, but we wanted to talk about a few of our pieces that have been popular as of late.
First Communion is a ceremony in which a person first receives the Eucharist, or the Holy Communion or Lord's Supper. The occasion occurs only after receiving Baptism and the first confession. In the Catholic faith specifically, it is the third of seven sacraments received. Gift this silver medallion to that special someone in your life to celebrate this sacrament.
Custom minted at our very own SilverTowne Mint in Winchester, Indiana, this exclusive round is struck in .999 fine silver. The obverse depicts the Eucharist with rays of light surrounding it along with a chalice, the Bible, a rosary, bread, and grapes (wine) symbolizing the last supper. "FIRST COMMUNION" is inscribed along the top curve of the piece. The reverse features our standard current year-dated back with the weight (ONE TROY OUNCE) and purity (.999 FINE SILVER) designation displayed around the area that has been left blank for optional engraving.
A Christian sacrament, baptism is shared among all Christian denominations. Many Christian denominations celebrate the sacrament as adults while Catholics are baptized as infants as a way to welcome them into the Catholic faith and free them from the original sin that they are born with. Celebrate the symbolism and meaning behind a baptism with this .999 fine silver round!
Exclusive to SilverTowne, the obverse of this medallion depicts the three common symbols associated with baptism: water/oil, the holy spirit, and fire/flames. "BAPTISM" appears inscribed above the symbols with the scripture "...He will baptize you with Holy Spirit" Mark 1:8 appears around the bottom curve of the round. The reverse features our standard back dated 2020 along with the weight and purity (ONE TROY OUNCE .999 FINE SILVER) designated around the area left for engraving.
Packaging/Engraving
Both silver options, including many more, will arrive in a protective plastic capsule to ensure its safety. The capsule will fit snugly into our in-house designed premium dark grey foam insert that fits directly into our SilverTowne gift boxes with natural kraft paper made from recycled materials within the United States. Choose from a number of outer box sleeves, including a custom Religious theme with a dove and cross, to top off this keepsake gift. The sleeves are specially designed with a blank area on the back for personalization. No gift wrapping is needed!
To go the extra mile, complete this gift with engraving! Choose your special message with 40 characters or less and let that person know just how proud you are during this special time of year! From first communions to baptisms to confirmations and more, we have you covered!