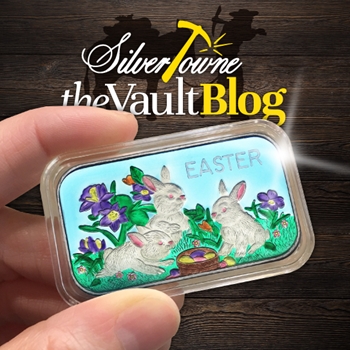 We are two months away from Easter, or Resurrection Sunday, and our silver bullion options for the 2020 holiday have already been flying off the shelves. Whether you are looking to fill your kids' Easter baskets full of goodies other than chocolates and candies or you are gifting a family member an annual piece of religious-themed silver bullion, we have a number of options that are sure to satisfy your gifting needs.
Easter Bunny Rabbits & Basket 1oz .999 Silver Bar
Custom minted at our very own SilverTowne Mint in Winchester, Indiana, this .999 fine silver bar is exclusive to SilverTowne and is available in both enameled and plain silver. The obverse features the word "EASTER" inscribed atop a reflective background with a whimsical Easter scene below it. The scene features three Easter bunnies gathered around a basket full of Easter eggs while Easter lilies can be seen in the background. The enameled version of this silver ingot is all hand-painted and features the bunnies in white with purple Easter lilies, a brown basket full of colorful eggs, orange butterflies, green grass, and a vibrant blue sky.
The reverse of this ingot whether plain or enameled depicts our standard current year-dated back. The weight and purity (ONE TROY OUNCE .999 FINE SILVER) are designated and displayed around the area that is specifically designed for personalized engraving.
Jesus on the Cross 1oz .999 Silver Bar
Our religious themed silver bullion is always a great option this time of year but it is also available all year round. This particular piece is struck in .999 fine silver and is exclusive to SilverTowne. The obverse of this particular silver bar that depicts the crucifixion of Jesus Christ at Golgotha features a high relief image of Jesus on the Cross as it is struck in a way that gives him a 3D-like effect coming off the bar. Surrounding Christ on the bar are Easter lily flowers as they symbolize Christ's purity as the sacrificial lamb.
The reverse of the bar features a bordered area with the weight and purity (One Troy Ounce .999 Fine Silver) designation around an area that is left blank for optional engraving. This special silver ingot can be engraved with any message on the reverse as it makes for a wonderful keepsake this time of year.
This piece reminds us that Christ willingly went to the cross as our substitute and without His sacrifice, each of us would face the penalty of death for our own sins. This Easter, choose this religious silver piece with Isaiah 53:5 in mind: Jesus Christ "was wounded for our transgressions, He was bruised for our iniquities; The chastisement for our peace was upon Him, And by His stripes we are healed."