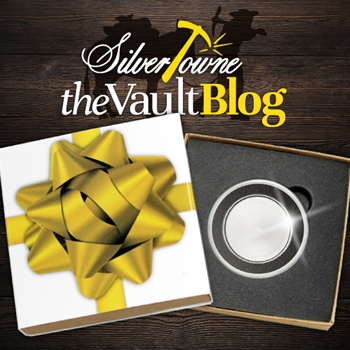 In mid-2019, we posted a blog about the possibilities available to us and to you, our loyal customers and collectors, that our blank silver bullion collection has to offer. Our aim with this collection? Complete customization and personalization, something that was expressed to us through the suggestions also made by our customers. One-ounce bars and rounds, a five-ounce bar, and 2pc gift sets are always popular options for our blank pieces.
Well, once again, we have taken your suggestions to heart and we have added another option to our .999 fine silver blank bullion. Now introducing, in a smaller and more budget-friendly option, a half-ounce silver medallion that collectors will be flocking to!
Blank Half Ounce .999 Silver Round
Custom minted at our own SilverTowne Mint in Winchester, Indiana, this new option is struck in .999 fine silver bullion and is exclusive to SilverTowne. The obverse depicts a blank design with a reflective outline around the frosted area that is left for optional engraving and personalization. The reverse is our standard non-dated back with the weight and purity designation (½ OUNCE .999 FINE SILVER) displayed around another area designated for engraving.
Your half-ounce blank medallion will arrive safely and securely in a protective plastic capsule that fits snugly inside a premium dark grey insert. That grey insert will then be placed directly into our in-house designed SilverTowne gift box with natural kraft paper that is made from recycled materials within the United States. To make it a completely customized gift, choose from a number of outer box sleeve options that fit securely over the gift box. There is a blank area left on the back of the in-house designed sleeves so that you can personalize them even more! There is no gift wrapping needed!
Much like our other blank silver bullion options, engraving on both sides is what the round was created for! For our much smaller half-ounce medallion option, character limits are up to 20 on each side to ensure the messages are legible. The canvas is yours--create and personalize these pieces to fit you and your gifting needs in the most budget-of-friendly ways!