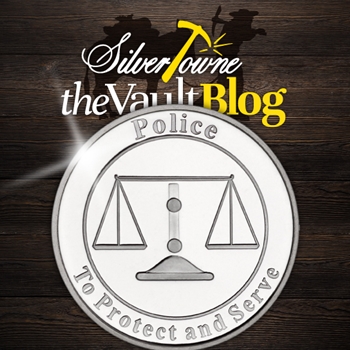 It is hard to believe that the new year is upon us. As we get started in 2020, there are a number of special days and holidays to celebrate. On January 9th in particular, it is a day to recognize those police and law enforcement officers that dedicate their lives to protecting and serving their local communities on National Law Enforcement Appreciation Day, also known as L.E.A.D.
While there are a number of ways to show your support for those individuals in law enforcement as they move through everyday difficulty and sacrifice, silver bullion may not be the first thought when doing so which makes it a very unique gift. While we have a number of law enforcement options in our inventory, our particular justice-themed pure silver medallion that pays tribute to the oath they take to "Serve and Protect" is a special piece to which one can honor their dedication to the job. What is even better, this particular piece is our Silver of the Month for January. Not sure what the Silver of the Month entails? Pay close attention.
Do you like free shipping? Of course, you do. Do you like the opportunity to get silver without having to buy more than what you want? Who doesn't? Welcome to our unofficial official silver of the month club where you do not have to sign up or enter any more information than necessary. All you have to do as a loyal SilverTowne customer is scroll to the bottom right of the homepage to figure out what piece of silver is featured each month and boom, you are in!
Police Protect and Serve 1oz .999 Silver Medallion
Custom minted at our very own minting facility in Winchester, Indiana, this round is exclusive to SilverTowne and is struck using pure .999 fine silver. The obverse of the medallion features the Scales of Justice in the center with the words "Police -- To Protect and Serve" inscribed around the top and bottom of the outer edge. The reverse depicts our standard non-dated back with the weight and purity designation (ONE OUNCE .999 FINE SILVER) displayed around the area that was specifically designed for optional engraving.
This one-of-a-kind silver medallion will arrive in a protective plastic capsule that fits snugly inside a premium dark grey insert. That insert will also fit snugly inside our in-house designed natural kraft paper SilverTowne gift box made from recycled materials within the United States. To top off this keepsake, choose a custom-fitted outer box sleeve featuring a blue bow to complete your gift. The sleeves are designed with a blank area on the back for optimal personalization and convenience. No gift wrapping is needed! There are also a number of other sleeve options available to choose from.
To take this special gift even further, choose to engrave your silver medallion on the reverse with a very special message. With options from names, dates, and special messages, you have up to 40 characters to truly make this a memorable keepsake.