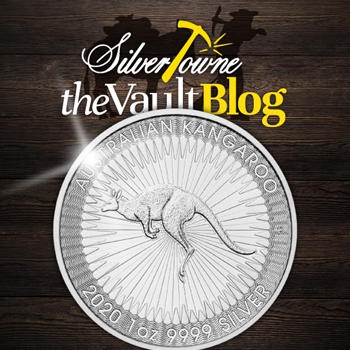 It is back from the Australian outback! Perth Mint's 2020 1oz Silver Kangaroo BU Coin is here for your collecting pleasure!
Struck in 99.99% fine silver, this 1oz bullion piece is in its fifth year of production at the Perth Mint in Australia. This bullion piece also carries extreme significance due to it being the first bullion piece from Perth that was struck in .9999 fine pure silver instead of the traditional .999 silver.
5th Year Series Release
With over 30 years of silver bullion experience, Perth has once again crafted the new 2019 Kangaroo that features the ever-popular red kangaroo on the reverse. Radial lines symbolizing sun rays encircle Australia's official national animal that reaches to the edge of the bullion piece.
The obverse showcases the, newly updated, Jody Clark Effigy of Her Majesty Queen Elizabeth II making it a legal tender coin under the Australian Currency Act of 1965.
As the bullion coin mintage remains unlimited, it also bears a unique authentication design element on the reverse to make it more difficult for counterfeiting to take place. The process that occurs takes form in a micro-lasered engraved letter that appears within the "AUSTRALIAN KANGAROO" inscription. This engraved letter is only detectable underneath a magnifying glass. The measures taken on this detailed component of the bullion piece allows consumers and customers all around to feel better about their purchase pertaining to the beautiful item's authenticity.