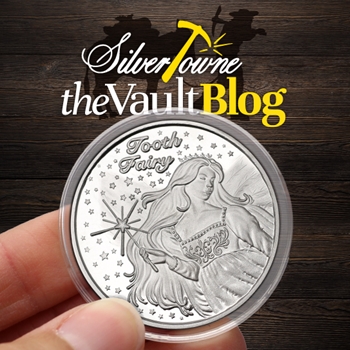 There are a number of childhood moments, or milestones, that take place that are worth remembering to parents. When you first learn to talk and walk, your first haircut, your first tooth, the first day of school, and so on. There is one in particular that we can help celebrate without keeping the 'remnants' of the memory: first lost tooth.
While there are a number of big moments for us as a kid, there are also moments as parents that you get to experience for the first time while actually going through them a number of times afterward. While your child has lost their tooth and placed it under their pillow at night, it is your responsibility to call on that magical creature that comes along and keeps it in exchange for a monetary prize: the Tooth Fairy.
Celebrating those little moments in a different way can really be beneficial, especially when you switch out that monetary prize for a silver piece that can potentially grow in value over time. This month, while there are a number of other magical characters and creatures roaming about our minds and our hearts, it is only fitting that we offer you our silver bullion round that features that beautiful figure that is the Tooth Fairy. What is even better? It also happens to be our Silver of the Month. Not sure what that means? Keeping reading, my friends.
Do you like free shipping? Of course, you do. Do you like the opportunity to get silver without having to buy more than what you want? Who doesn't? Welcome to our unofficial official silver of the month club where you do not have to sign up or enter any more information than necessary. All you have to do as a loyal SilverTowne customer is scroll to the bottom right of the homepage to figure out what piece of silver is featured each month and boom, you are in!
Origin of the Tooth Fairy
This tradition, found in places like New Zealand and Mexico, is based on the fact that mice have strong teeth. If children left their lost teeth for the Tooth Mouse, it was believed that they too would have strong teeth. In hopes that a magical figure such as a fairy would be less scary than a mouse coming into your room at night, America adopted the tradition and the Tooth Fairy was born.
It does not matter if you have the type of child that rips their teeth out or one that gets emotional thinking about losing a tooth and the pain associated with it, the thought of money waiting on the other end is enough for them to accept the fact that it is all a part of life. While money is a great exchange for the tradition, we find that silver bullion may even be better. Why? The potential for its value to increase is the biggest reason, but we also believe that our specific Tooth Fairy design is enough to make any child jump for joy once they wake up the next morning.
Tooth Fairy 1oz .999 Silver Medallion
Take advantage of this special Silver of the Month deal by grabbing up this exclusive one-ounce .999 fine silver round that features the Tooth Fairy! Custom minted at our own SilverTowne Mint, the obverse features a whimsical Tooth Fairy as she's in flight. In her hand lies a magical star wand as her long hair, crown, and dress give her princess-like features alongside her wings in the background. "Tooth Fairy" is inscribed on the top left along with several stars scattered among the proof-like background. Our standard non-dated back can be found on the reverse of the design as the weight and purity designation (ONE TROY OUNCE .999 FINE SILVER) is displayed around the area for left blank for engraving.
This beautiful celebration silver medallion will arrive in a protective plastic capsule to ensure it arrives safely. It will then be placed in a small, white organza pouch with silver stars that makes it easy for placing underneath a child's pillow! Much like our other silver bullion options, there are also alternate packaging options to choose from upon checkout as gift wrapping is no longer needed. With our in-house designed specialty packaging, gift-giving has never been more easy or efficient!