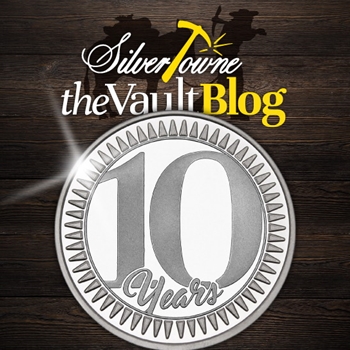 A lot can happen in 10 years. Anniversaries, babies, marriages, divorces, two and a half Presidential terms, sobriety, class reunions. All of these things are worthy (maybe not so much the divorce part) of commemorating. All of these things are significant and could be remembered with the gift of silver. It just so happens that our Silver of the Month for October can enhance that gift. Not familiar with our Silver of the Month options? Continue reading, please.
Do you like free shipping? Of course, you do. Do you like the opportunity to get silver without having to buy more than what you want? Who doesn't? Welcome to our unofficial official silver of the month club where you do not have to sign up or enter any more information than necessary. All you have to do as a loyal SilverTowne customer is scroll to the bottom right of the homepage to figure out what piece of silver is featured each month and boom, you are in!
Show someone who has meant the world to you this last decade just how important they are to your next 10 years with this beautiful medallion.
Custom minted at our own SilverTowne Mint in Winchester, Indiana, this made in the USA .999 pure silver bullion piece is exclusive to SilverTowne. The obverse features the number "10" and "Years" with a festive star-burst lining the outer edge of the round. The reverse depicts our standard current year dated back with the weight and purity designated ("ONE TROY OUNCE .999 FINE SILVER"). The reverse also allows for personalized engraving.
This special round will arrive in a capsule and an in-house designed SilverTowne gift box wrapped in natural kraft paper made with recycled materials. A custom-fitted foam insert lines the inside of the box while a custom-fitted sleeve allows for a complete finish to your packaged gift. Alternative packaging options are available as well as engraving options to allow your gift-giving to be as personalized as possible.