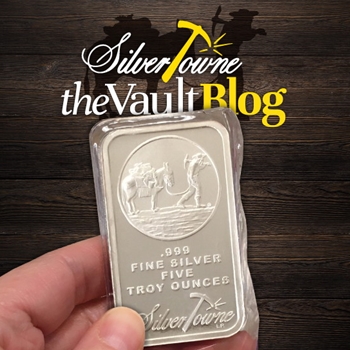 The bullion business is quite an extraordinary thing. There are ups and downs (literally), a number of metals to choose from, and can be one of the best investments ever made when it comes to a person's portfolio. As the business' landscape changes from day to day as far as what people are collecting and why, the vast amount of dealers out there in the bullion game stretch across these United States.
So what separates them? Variety, and we believe that we have that particular spice needed for your life.
SilverTowne is celebrating its 70th Anniversary this year which means, yes, we have been around for a while. A family-owned and operated business, it also means our bullion brings variety to anyone's collection from design to size to weight. In particular? We have a five-ounce bullion collection that has developed over the years and has proven to bring just the right amount of diversity to a collector's portfolio.
Why 5oz Rounds and Bars?
Purchasing high-quality silver in larger sizes often brings a lower premium per ounce. This occurs because the production of these bars and rounds are overall easier.
Five-ounce bullion pieces are also easier when it comes to reselling them, once again in part to the lower premium due to production cost.
Collecting five-ounce silver pieces are a nice way to elevate your collection in addition to being a more budget-friendly middle ground between one-ounce bullion and ten-ounce bullion.
5oz .999 Silver Bar and Round Collection
Available in seven different design options, each five-ounce .999 fine silver ingot or medallion option is available in a multitude of quantities including but not limited to single counts, 2pc, 5pc, 20pc, and 100pc. Custom minted at our very own SilverTowne Mint, each design is exclusive to SilverTowne and are 100% guaranteed in weight and purity.
Highly recognizable and popular among collectors and investors, the obverse of the design features the SilverTowne Trademark prospector and his trusty burro in a circle at the top of the bar. The SilverTowne logo is featured at the bottom along with the silver purity and weight designation (.999 FINE SILVER FIVE TROY OUNCES). The reverse depicts a crisscross waffle pattern with the SilverTowne logo alongside the Donkey and Prospector in the center.
Perfect for storing and convenience, this stackable design features interlocking grooves on the outside of the five-ounce medallion that allows for easy stacking. The obverse depicts the SilverTowne logo along with the Donkey and Prospector in the middle while the inset design on the outer edge causes a slightly raised lip on the reverse. The outer rim features alternating bars of frosted areas while in the inset areas feature a mirrored finish.
All five-ounce products will arrive in a heat-sealed plastic. There are also five-ounce plastic medallion and ingot capsules designed for product protection.
Featured Products: 5 Ounce Silver Bullion Bars and Rounds