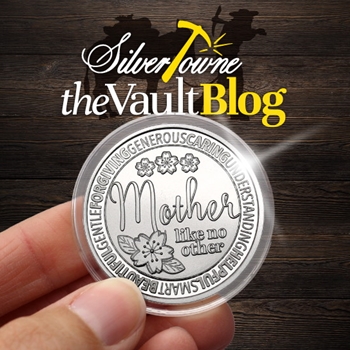 There is a special holiday in May that celebrates a special type of person. This person exudes superhero strength, unconditional love, and a caring and forgiving nature. They are helpful and kind and will stand behind you in your most desperate time of need. This person or persons in your life holds the title of "mother" and they are quite possibly the most important person you will ever have the chance of knowing.
Whether by blood or by love, women all over the world are mothers and nurturers and deserve to be celebrated more than just on the proverbial date in May that makes it apparent they should be celebrated. We here at SilverTowne are big believers in celebrating the ones you love all year round and our silver collection proves it. So for this month's silver of the month choice, we decided to continue our efforts in putting that special woman in your life on an even bigger pedestal. Do not know the difference between regular silver and the silver of the month? Continue reading for the answer.
Do you like free shipping? Of course, you do. Do you like the opportunity to get silver without having to buy more than what you want? Who doesn't? Welcome to our unofficial official silver of the month club where you do not have to sign up or enter any more information than necessary. All you have to do as a loyal SilverTowne customer, is scroll to the bottom right of the homepage to figure out what piece of silver is featured each month and boom, you are in!
Custom minted at our own SilverTowne Mint in Winchester, Indiana, our Mother Like No Other .999 fine silver round is exclusive to SilverTowne and is a great piece to thank all the mothers out there for all that they do.
The obverse features a plethora of flowers with the words "Mother like no other" on a circular matte background. Also featured on the rim are several words upon a reflective background that list the virtuous traits of mothers, reading "GENEROUS, CARING, UNDERSTANDING, HELPFUL, SMART, BEAUTIFUL, GENTLE, FORGIVING." The reverse depicts our standard non-dated back with a circle area designated for our popular engraving option. Around the edge are the weight and purity designations of "ONE TROY OUNCE .999 FINE SILVER."
Want to take it a step further? There are custom, in-house designed packaging options that will allow for this piece to be the ultimate gift! Choose from a number of options that also allow for you to skip the card and wrapping paper! Our packaging includes designated areas for optimal personalization and messaging for that special woman in your life!
Continue the gift experience by choosing to engrave upon checkout as you will get 40 characters or less to thank mom with this silver bullion piece. Make it a keepsake to remember for years to come!