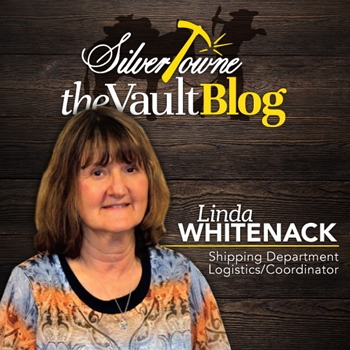 Linda W., Shipping Department Logistics/Coordinator
Years ago, our shipping department was made up of three people working out of a tiny room in which we now call our break room at SilverTowne. Of those three, one still remains after nearly 16 years of time when she was hired in mid-September of 2003: Linda. From the very first day, Linda has stood at the end of the line in anticipation of all the packages wrapped from fellow employees, ready to scan, print their destination labels, and observe their specific delivery carrier.
Current Job: "My main job is scanning all of the packages, including both SilverTowne and The Coin Vault but I also help wrap packages as well when it is needed. In addition to those main job functions, I help Amy (eBay) with her package questions as well as Nikki when it comes to handling NGC stuff. The Mint (SilverTowne) also brings their things over and I help with those as they are manually entered. Towards the end of the day, I finalize all orders which gives accounting the ability to invoice everything for the day. Finally, I take all the wrapped packages to receiving for pickup."
Favorite Part of Her Job: "I like to scan packages more than anything."
Most Surprising Thing Over the Years: "Still just how much gold people buy. The amount of money spent is something I'm not sure I will ever get used to."
Biggest Changes Over The Years: "I think the number of bulk orders we use to handle versus what is now handled through the SilverTowne Mint specifically. For example, for one of our customers, we would have four or five carts loaded with 10-12 packages on each. Those used to be every day or every other day. And they were heavy packages because they were bulk orders that could be up to 500 ounces."
Busiest Time She Could Recall: "Definitely when we had weekend (television) shows. I think one time we did 4,000 packages on a Monday following one of those weekends. I enjoyed that time. It was funny because I remember Kristen (former employee) would help and sometimes you'd end up with two labels on either side of the package. It got really busy."
Fondest Memories: "It was back when Leon was still pretty active in the business. Every beginning of the holiday week, he would always come around to all of us and he would say, 'if you girls get a lot of packages done, you can get three days off.' He would always say it so seriously too. It was funny because obviously, we got it off anyway. I also enjoyed all the cookouts and a specific employee appreciation gathering we had when Tami (former employee) and I sang, 'Help Me, Rhonda.' It was really fun."
Favorite Period of Music: "The 70's and 80's. The 80's are probably my favorite though. And modern country."
Although a veteran within our walls, Linda has decided to retire from SilverTowne and take care of her granddaughter this summer. Her last day will be this Friday.
"I'll get to spend lots of time with Lyndi this summer," she said. "My husband says I won't like retirement, but I think I'll do just fine. I'll have a lot of things to keep me busy this summer."
The biggest thing she will miss?
"All the people I've worked with," she replied. "There have been a lot of people come and go over the years. Definitely the people."
It is not easy to watch someone leave us at SilverTowne, especially if they have dedicated a large portion of their life coming to the business every day and making it a better place. Linda has done just that. Dedication and consistency are something to be learned from her as well as her polite and kind attitude towards anyone she meets.
We wish you well, Linda. Thank you for everything you have done!