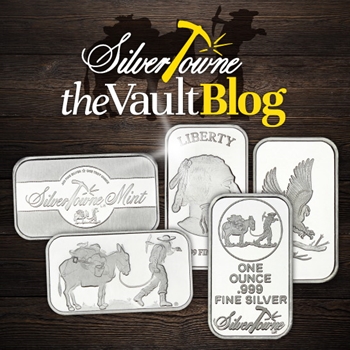 Variety is the spice of life, right? As a silver bullion business, we pride ourselves on offering a number of collecting options. Bars, rounds, poured, different weights. There is literally something for everyone. But what if you are just starting out and are not sure what you should be buying, what sort of designs you like, or exactly how to choose from an overwhelmingly long list? Well, like a knight on a white horse riding in from your favorite story book, here we are offering you a chance to figure it out without putting in all the work.
Mixed Design Lots
For the best chance at finding what you like and what you want, we offer custom minted silver mixed design lots from our own minting facility in Winchester, Indiana. Available in different quantity increments as well as your choice of bars or rounds, a mixed design lot is a great starter pack for a beginner or can even be a great way to mix up an already established collector's portfolio.
What is even better on top of diversifying your portfolio is the added enjoyment of experiencing bulk bullion prices. These lots are affordable and even IRA approved!
Numerous options are available in bulk or in single piece options including but not limited to 5pc, 10pc, and 20pc tubes. As a standard issue bullion piece, it also arrives at a lower premium.
10 Piece 1oz Silver Bars Mixed Designs
Comprised of 10 total Troy Ounces of .999 fine silver, this 10 piece silver bars lot is made up of standard bullion pieces minted by the SilverTowne Mint. The lot includes two designs each of the following:
SilverTowne Trademark 1oz Bar
Buffalo Replica 1oz Bar
SilverTowne Trademark Eagle 1oz Bar
SilverTowne Mint Logo 1oz Bar
SilverTowne Prospector 1oz Bar
Also available are 20 piece 1oz ingots, 10 piece and 20 piece medallion lots, a 10 piece 1oz stackable rounds mixed lot, and even a five piece 10oz bars option. Start stacking with these mixed lots and see just how diverse your silver bullion collection can get!