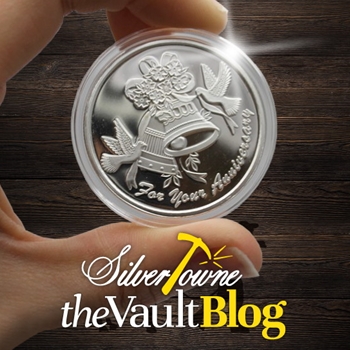 Diversity in your portfolio. It is a collector's dream to have such a thing when it comes to collecting silver bullion. Well, listen up because we have a chance for you to collect more and save money while you do it.
Do you like free shipping? Of course you do. Do you like the opportunity to get it without having to buy more than what you want? Who doesn't? Welcome to our unofficial official silver of the month club where you do not have to sign up or enter any more information than necessary. All you have to do, the loyal SilverTowne customer, is scroll to the bottom right of the homepage to figure out what piece of silver is featured each month and boom, you are in!
Anniversary Bells 1oz .999 Silver Medallion
April is here and so is the new silver of the month selection. Custom minted at our own SilverTowne Mint in Winchester, Indiana, this SilverTowne exclusive .999 fine silver medallion is a wedding-themed anniversary piece that is great for wishing the happiest of couples a Happy Anniversary! Milestones are a big deal and should be celebrated, so why not celebrate with a silver piece and make your gift the most talked about all year long!
The obverse of the medallion features two wedding bells that are surrounded by flowers, a ribbon, and two doves in flight. Inscribed around the rim of the bottom are the words "For Your Anniversary." The reverse of the round depicts our standard blank back for engraving if chosen. The current-year dated back also displays the weight and purity designation of "ONE TROY OUNCE .999 FINE SILVER".
As always, these rounds will come in a protective plastic capsule that fits within our in-house designed SilverTowne gift boxes with natural kraft paper made from recycled materials all within the USA. A foam insert lines the the bottom of the box so that your piece can fit snugly inside.
For more personalization to the happy couple or even your other half, choose a custom fitted sleeve that says "Congratulations!" or choose from a variety of other options available with the different designs. All sleeves have a designated blank spot on the back to rid the need for extra gift bags or boxes! No gift wrapping is needed! To top it all off, engraving is there to satisfy the most personal of gift giving needs as the option is there to show the recipient just how you feel in 40 characters or less!