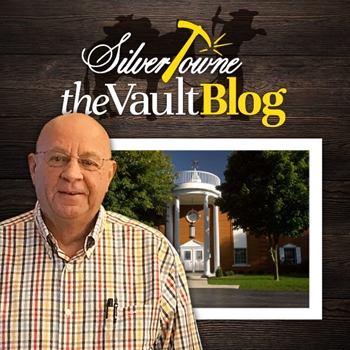 Legacy. Family. Tradition. SilverTowne. David Hendrickson has contributed to it all.
With over half a century experience in the coin business, David has decided to settle down and spend his time away from the business while leaving SilverTowne in good hands with his sister Tanda and six nephews. After finally deciding to retire from the family business, David spent his last day wandering the halls, chatting with employees, and cleaning out his office on January, 21, 2019.
Keeping it in the Family
"It's time to step aside for my sister Tanda and her three boys to preserve the livelihood and future of the family business," he said. "She has asked me to continue on as an advisor and member of the Board of Directors. I know I leave SilverTowne in excellent hands with my six nephews who have grown up in the business. I think my father would be proud of my decision."
Growing up in the family business, David has been able to create and breathe life into many interpersonal relationships with collectors and investors nationwide as well as internationally. As a lifetime member of the American Numismatics Association, Florida United Numismatists, Indiana State, and Central States, David was able to help his father build a multi-million dollar bullion and numismatic business with the trust of a handshake. In addition to lifetime memberships, he is also a member of the Silver Dollar Roundtable and has been a member of the Professional Numismatist Guild, or the PNG, for over 35 years.
Aside from the coin business, David has been an active member of the small town Winchester, Indiana, community and its development. In addition to being proprietor of a community center, hotel, and movie theater, he has been a lifelong member of the Spartansburg Christian Church. Married to his wife Deb for over 30 years, he has two children and two stepchildren as well as six grandkids to keep him busy.
Founded by his father Leon Hendrickson in 1949 with the tenacity of his wife Ruhama (Hamie) by his side, SilverTowne is now one of the largest and most respected coin dealers in the numismatic and precious metals business. With a small town family business in the hands of Leon and Hamie in addition to the help of their children, the Hendrickson's were able to create a larger than life business that is respected far and wide as its foundation was created and projected with integrity.
Happy Retirement, David!