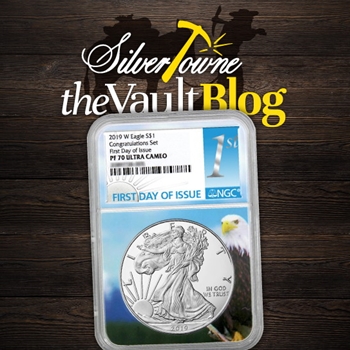 Congratulations. You have never heard this word more in the coin hobby than you have in the past few years.
While the hobby has seen it's fair share of attributions when it comes to certified coins, this attribution has only been relevant since 2017 due to the Mint's desire to "shake things up" during their 225th anniversary year. They released two sets that would change the way we collected proof American Silver Eagles from then on: the Congratulations Set and the Limited Edition Silver Proof Set.
Congratulations Coin Set History
Since its inception in 2013, Congratulations Sets from the United States Mint were, in lack of better words, pretty basic. Your standard American Silver Eagle was minted with a "W" on the reverse as the proof coin was minted at West Point.
Made available at the beginning of the year, packaging was standard of a one-coin set perceived as giftable by the Mint and relatively affordable. The packaging also allowed for an designated area to be written in for more of a personalized feel. Contained within a sleeve designed with black and gold streamers and confetti, the set is removed to open in the style of a book with a hole on the backside to reveal the reverse. Everything about the set represented the idea of gift-giving with special occasions like weddings, birthdays, anniversaries, graduations, and many more in mind.
In 2013, just a little over 18,000 sets were sold. By 2016, the sets had a significant drop off as a little over 2,000 sets were recorded as purchased from the Mint.
The Year That Changed Everything
With its 225th Anniversary in tow, the United States Mint came out with a few surprises that had the hobby buzzing. First up: the 2017 Philadelphia Lincoln Cent. It would be the first year that a Philadelphia mint mark made its way onto a cent coin. Fast forward to April 4th, 2017, and the result that quickly followed as the Mint released its first ever San Francisco minted proof silver Eagle since 2012 that was contained in the 2017 Congratulations Set.
Containing a limited mintage of just 75,000, the set sold out in minutes. Released later on in the year was the 2017 Limited Edition Silver Proof Set which also contained an "S" minted proof Eagle with a limited mintage of 50,000. Combined both sets garnered a maximum mintage of 125,000, which next to the 1995 W proof Eagle, was the lowest minted proof American Silver Eagle in history.
What some will either call smart or less than, the United States Mint only allowed this first ever special proof American Silver Eagle to be obtained in the two aforementioned sets.
Following such a limited and rare silver Eagle, backdate Congratulations Sets grew in collectibility as well as popularity as every collector made it a priority to obtain the sets and most likely grade them. While the numbers for 2016 took a nosedive as far as number of sets sold from the first production of them in 2013, their final numbers rose to over 5,000 sold from the Mint. Sets from every year prior are nearly impossible to find as those who own them mostly likely received them as a gift and in result, would not bear to part with them.
Sources: www.coinworld.com; www.usmint.gov