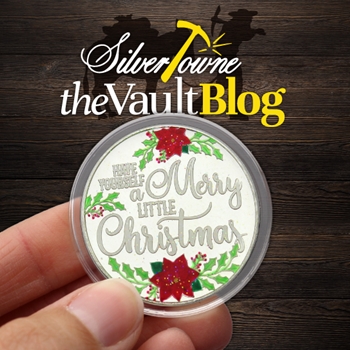 ♫♫ 'Cause no matter how far away you roam….for the holidays you can't beat home, sweet home. ♫♫
They say home is where the heart is and we believe that here at the coin shop. We believe that because we are a family, literally and figuratively. This is a FAMILY business and most of us who are not related by blood are adopted into that first family in some way or another.
Started by the grandfather of us all, Leon Hendrickson, SilverTowne is ran by sons and grandsons with the immense support of daughters, cousins, and extended family. Alongside that lifeblood are employees that combined have decades and decades of experience running each little in and out of the business as it grows and shifts to fit the current needs of our customers.
SilverTowne customers: the reason we choose to commit ourselves to sharing the joys of this holiday season and every season for that matter. Our customers are our extended family and we think about that every year when choosing Christmas designs for our silver bars and medallions.
Carol S., Engraving, Looks Back on Christmas Silver
"I come in in the morning, you're engraving. When I leave for the night, you're engraving. There's something just not right here."
If ever there were a phrase to sum up Carol's time here at SilverTowne during the holiday months, this would be it.
With 23 years of experience working for the business and 14 of those years engraving, Carol does not mind the 10-12 hours a day on her feet as she feels it necessary to get the job done.
"It's very worth it," she said. "I always do what it takes. I owe it to this company."
Like most employees with 15+ years of experience, Carol has almost seen it all and done it all. Especially during silver booms when all hands were on deck.
"I remember during the holidays when we would get so swamped," she recalls, exasperated. "Customers would be elbow to elbow at the front counter. That's when all our silver pieces were available in enamel and even some were gold plated."
Engraving itself has been an available option at the coin shop for over 30 years, but the personalized aspect of silver purchasing only gained its real footing when the internet came along and changed everything.
And Carol would know. She keeps track of EVERY engraving she does past and present.
"I would say 2014 was one of our biggest years as far as the numbers go," she reflected, all the while entering her desk drawer to the file where she keeps all the past records of her engravings. "In just November and December, I did 4,656 engravings myself!"
Favorite Designs
Like a lot of our customers and even our employees, Carol makes it a point to gift silver every year to the special ones around her.
"I give my husband a silver piece every year," she said, "which just proves how appropriate gifting silver is. You can give it to anyone. It's a gift that keeps on giving. It's a keepsake."
This year her special gift was the enameled Merry Christmas poinsettia. "It's just pretty," she laughed when asked why that specific design of the 15 available to choose from.
With as many Christmas designs as SilverTowne has provided over the years, Carol has seen her fair share of them leave the building in the hands of the same customers year after year.
"Every year you see the same people buying for the same people," she said. "It's definitely a tradition. And you hardly ever buy back Christmas pieces. People keep them because they are unique."
With this in mind, Carol emphasizes the importance of Christmas and never fails to let those close to her know how she feels.
"Christmas is about Jesus and family," she declared. "Family, family, family."