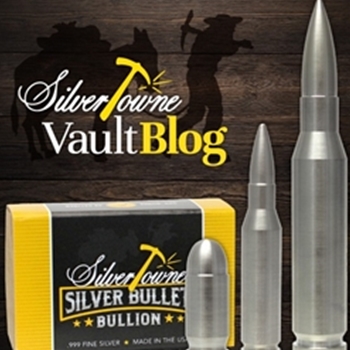 Gift-giving season is around the corner. Wallets are preparing to be emptied and cards are preparing to be swiped (or inserted depending on your current status with the ever-changing world that is technology), making all our bank accounts hold their formidable breath until the first of the year presents itself. Cue the inevitable 1-2-3 tapout on December 25th.
The stress that is assumed during this time of year can really take a toll on your finances, but it can also be handled with strategic--and tangible--care in the form of collectible silver.
Generally speaking, collecting coins and silver this day and age is specific to those who most likely have been doing so for years. However, you will have the occasional collector that is just now dipping their toes into the water via a gift they received from a family member, friend, or fellow collector.
Aside from the discernible eye appeal, silver and other forms of precious metals are incredible gift options for those who know, and take the time to know, the advantages of its ownership.
Potential For Increased Value
Silver products, like many of the themed .999 fine silver bullion pieces and numismatic coins offered to you by SilverTowne, have the ability to increase in value over time. By owning physical silver and other precious metals, you are helping yourself and others protect the value of their special pieces currently and in the future.
Exchange of Knowledge
With almost every purchase made today for either personal or professional use, the backing of knowledge about the product, or in this case the gift, helps encourage commitment to and for future use. When gifting collectible silver to family members or friends, you are also giving the gift of knowledge about the product at hand. This could ultimately spark the beginning of an amazing collection.
Silver and precious metals have an abundant amount of information attached that you can teach the people you care about. In this case, you have the opportunity to give them something intangible and not so easy to put a price tag on. Their wealth in knowledge, and silver, will increase dramatically!
Featured Product: SilverTowne Silver Bullet Replicas
Currently launching is SilverTowne's newly minted silver bullet options! Now is the perfect time to pull the trigger (pun intended) on your giftable silver purchases for yourself or someone close to you.
Like many of the products made available to you at SilverTowne, we have included different purchasing options to suit your buying and gifting needs. Our .999 fine silver bullets come in one ounce (.45 caliber), two ounce (.308 caliber), and ten ounce (.50 caliber) replicas. One count and ten count options are also available for both the one ounce and the two ounce bullets. In addition to this exciting new selection of collectible silver, each bullet purchase will include a customizable sleeve to make your gift exchange easy and more memorable. It's already wrapped!
With a vast number of collectible silver options in reach, the gift-giving season can extend far beyond those last few months at the end of the year that makes everyone sigh a little in anticipation. Traditions are built and memories are made with each silver piece added to your collection.
Go ahead, give the gift that TRULY keeps on giving!
Silver Bullet Replicas .45 Caliber, .308 Caliber & .50 Caliber