SilverTowne Prospector 1oz .999 Silver Bar 10pc
sku:99-00-003419
| SPECIFICATION | VALUE |
| --- | --- |
| Composition: | .999 Fine Silver |
| Weight: | 1 Troy Ounce |
| Approx. Dimensions: | 50mm (W) | 29mm (H) | 2.5mm (D) |
| Mint: | SilverTowne Mint |
Browse all lot sizes for SilverTowne 1oz Prospector Silver Bars.
Sorry, this item is currently out of stock.
PRODUCT DETAILS/DESCRIPTION
SilverTowne Prospector 1 Troy Ounce (oz) .999 Fine Silver Bar 10 Piece (pc) - Total of 10 Troy Ounces of .999 Fine Silver Bullion
The Prospector Bar Was One of the first bars ever minted by the SilverTowne Mint back in the early 70s! Although the design has been updated and modernized in recent years, the prospector design remains one of our most popular bullion bars.
Minted at the SilverTowne Minted located in Winchester, Indiana, these Prospector Bars are minted in 1 Troy Ounce of .999 Fine Silver.
The front of the bar's design features the traditional SilverTowne Trademarked Prospector and Donkey walking. With his pickaxe in hand, Pete the Prospector is leading his trusty donkey in search of his treasure for the day. The reverse design designates metal weight and fineness of "ONE OUNCE .999 FINE SILVER" across the top along with the SilverTowne registered logo and "WINCHESTER, INDIANA".
Old Design: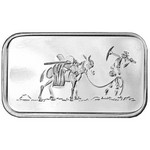 Updated Design: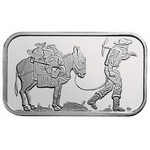 Singles will arrive in heat-sealed plastic. Lots starting at 20 Pieces can have sturdy plastic tubes added as an upgrade.
See all lot sizes available for SilverTowne 1oz Prospector Bars
(No returns, exchanges or expedited shipping on this item.)