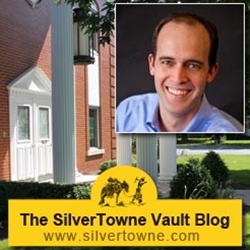 COO, Matthew Lesher
From a cigar box under the lunch counter of a small Winchester, Indiana restaurant to a multi-million dollar business, SilverTowne has grown from a local coin shop to one of the country's largest and most respected dealers of rare coins, modern coins and bullion. Founded over a half century ago in 1949 by Leon Hendrickson, SilverTowne has experienced tremendous growth over the years thanks to the leadership of Leon, his late wife Ruhama, their son David and extended family members.
In light of the continued growth and success of SilverTowne, the company has recently hired a new Chief Operating Officer, Matthew Lesher, to oversee day-to-day operations.
Following is the official release:
SilverTowne LP announced on Feb. 10 the arrival of its new chief operating officer, Matthew Lesher.
As the new COO, Lesher will oversee day-to-day operations of SilverTowne.
"I am extremely excited to join the SilverTowne team," Lesher said. "David Hendrickson and his team have done an exceptional job of building and growing SilverTowne to be one of the leaders in the coin and bullion industry.
"SilverTowne is poised for sustained and exceptional growth. My goal is to work with our team to implement this growth plan that will help take SilverTowne to the next level."
Hendrickson, SilverTowne's co-founder and CEO, said, "Matt is an exceptional young man, I look forward to the work he will do with me and with SilverTowne. Matt is an Indiana man who understands hard work, family and backbone. There is no doubt in my mind that SilverTowne will flourish with his knowledge and background."
Prior to this appointment, Lesher was COO of Tetherball LLC, a mobile marketing technology company. During his time with the company, he helped build and grow the company to be one of the mobile messaging industry leaders. The company was acquired by a large competitor at the end of 2014. Prior to joining Tetherball, Lesher practiced with the law firm Faegre Baker Daniels focusing on mergers and acquisitions and general corporate law.
Lesher earned his undergraduate degree in accounting and his law degree at Indiana University-Bloomington. He is also a Certified Public Accountant.