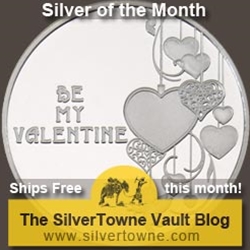 2015 February Silver of the Month
Hearts and Cupid, the mythological god of desire and affection, are popular symbols used to signify Valentine's Day – so fittingly the February 2015 SilverTowne Silver of the Month offers an elegant design highlighting both of these familiar symbols.
The obverse of the Be My Valentine 1oz .999 Silver Medallion features several styles of hearts hanging from strings down the right hand side, giving the design a mobile-like look and feel. Hanging below the hearts is a small rendition of Cupid, the winged figure that goes around causing people to fall in love using his bow and arrow. To the left of this design is a heartfelt message of BE MY VALENTINE. The frosted reverse is engravable and includes the inscription ONE TROY OUNCE .999 FINE SILVER, along with the year 2015. Also available in enameled silver - hand-painted in vibrant colors.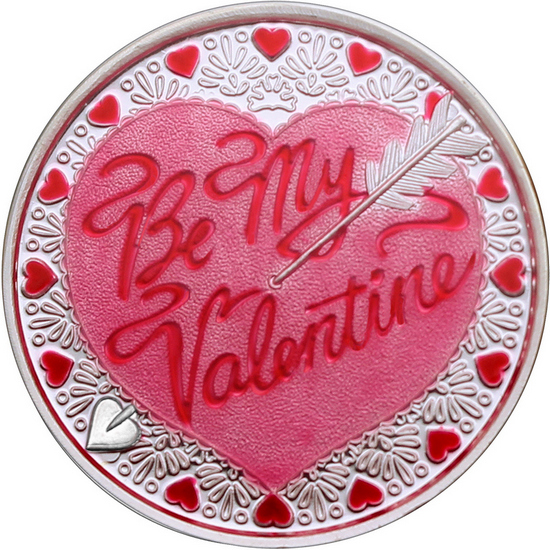 Valentine's Day has been associated with romantic love since early on in the High Middle Ages. By the 15th century, it had become commonplace for lovers to express their love for each other by exchanging flowers, sweets and greeting cards known as "valentines". But a much better option would be to give the special people in your life a valuable silver medallion this February 14th!
Take advantage of free shipping for the entire month of February and order your Be My Valentine 1oz .999 Silver Medallion.
Silver of the Month:
Based on customer feedback, the SilverTowne Silver of the Month allows you to add a variety of designs to your silver stacks with a different featured design offered with free shipping each month. As most investors in precious metals know, an ounce of silver is an ounce of silver – but many people like to have different designs in their silver stacks. After all, if you're going to hold physical silver, why not make it fun and interesting as well as practical? By offering free shipping on a different featured design each month, we hope you will be able to add exciting new designs to your silver collection!