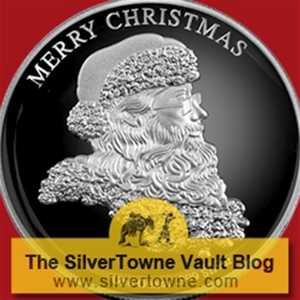 Another SilverTowne Exclusive
A large portion of the world, particularly English-speaking nations, recognizes the legendary figure of Father Christmas, or Santa Claus. Children everywhere eagerly await the arrival of Santa Claus, sometimes referred to as Saint Nicholas or Kris Kringle, each year at Christmastime in hopes that he will bring them gifts. A new coin, exclusively from SilverTowne, celebrates the beloved Santa Claus with a highly-detailed portrait view of the iconic figure. The image is enhanced with varying textures highlighting Santa's beard, hat and the fur trimmings of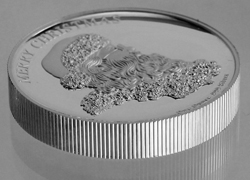 his hat and coat. These effects work together to form a stunning rendition of the jolly man.
This beautiful high relief silver coin, designed by SilverTowne's own Michael Glass and minted by the Perth Mint, is issued as legal tender under the authority of the Government of Tuvalu. Along with the portrait of Santa Claus, the coin's reverse also includes the inscription MERRY CHRISTMAS, the coin's weight of ONE OUNCE and the fineness of .999 SILVER. The coin's obverse depicts the Ian Rank-Broadley effigy of Her Majesty QUEEN ELIZABETH II, the monetary denomination of 1 DOLLAR, the country name of TUVALU and the year 2014.
More about Santa Claus from the coin's certificate of authenticity: "The image of Santa Claus has changed over the years, but the modern figure is most often depicted as a portly, white-bearded man wearing spectacles and a red "santa suit" trimmed in white, along with a thick black belt and boots. Despite the arduous task of delivering gifts to children all over the world in a single night, Santa Claus loves spreading good cheer and is always joyous. He is assisted by elves, who make the toys in a workshop located at the North Pole, where Santa Claus also resides, and a team of flying reindeer, who pull his sleigh through the sky, allowing him to travel from home to home rapidly.
It is believed that the modern-day legend of Santa Claus derived from several other figures throughout history. Old English civilizations celebrated a midwinter event called Yule. Many traditions from Yuletide celebrations were absorbed into modern Christmas traditions, including a claimed procession through the sky led by the god Odin, who purportedly rode on an eight-footed steed, visiting people with gifts. A 4th century Greek Christian bishop, Saint Nicholas, was famous for delivering gifts to the poor - and children during the Middle Ages were bestowed gifts in his name. Father Christmas, widely viewed as synonymous with Santa Claus, can be traced back to 16th century England, during the reign of King Henry VIII. Embodying a spirit of good cheer, joy and peace, Father Christmas also offered food and wine to people throughout the country.
Santa Claus is commonly said to enter residences through the chimney, a practice that was also a tradition with many of Santa's predecessor figures. Other rituals include households leaving Santa Claus a treat for him to enjoy while he visits, most often including cookies and milk, and the writing of letters by children to Santa Claus to share their "wish lists" of toys that they'd like to receive for Christmas. Wish lists are also often shared in person with Santa Claus at department stores, shopping malls and other public locations."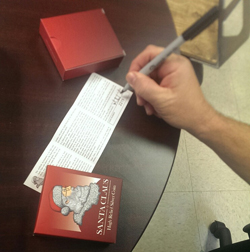 The Silver Santa Claus coin comes in a clamshell tucked inside a gorgeous box. Along with the original government packaging, your coin also includes a certificate of authenticity – which will be signed by coin designer Michael Glass!
No more than 2,500 of the 2014 Santa Claus 1oz Silver High Relief Coins will be released - and SilverTowne is the Exclusive Dealer for the entire 2,500!
Add this beautiful coin to your collection today before it's gone!