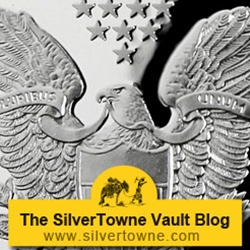 2014 Proof SAE Coin
Coins are designated as proof versions based on a specific manufacturing process that utilizes a specially treated die to strike the coin. This special die, combined with multiple strikes of the blank (2 or more), creates a mirror-like shine to the field area of the coin (the portion behind the raised main design elements). Proof versions of select coins are produced by the United States Mint in order to offer 'higher-end' collector's editions of popular releases.
Silver American Eagles are the best-selling silver bullion coin in the world - and are by far the most popular bullion coins the United States Mint produces each year. So it's no wonder that a proof version of the Silver American Eagle coin has been issued every year that the coin has been minted since 1986, with the exception of 2009 when no proof SAE was released. The proof version of the silver eagle was temporarily suspended in 2009 due to unprecedented demand for the mint state bullion version of the coin.
The weight (31.101 grams), content (1 troy ounce of silver) and purity (99.9% pure) of every Silver Eagle coin is guaranteed by the U.S. Government. Each coin features a reeded edge and is legal tender with a face value of $1.00 (which of course is largely symbolic as the real value of the coin is in the silver content). If you have never owned a Silver American Eagle coin, you will definitely want to add this popular coin to your collection. If you already collect Silver American Eagles but don't own any proof versions, there's no better time than now to add some to your collection. Get Proof Silver American Eagles now - you won't be disappointed!