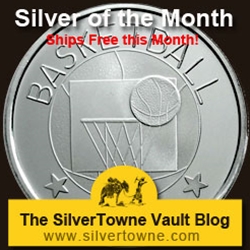 2014 March Silver of the Month
The March 2014 SilverTowne Silver of the Month celebrates one of the most exciting times of the year for many sports fans across the country. The annual NCAA® College Basketball tournament is right around the corner and soon the March Madness will be in full swing. But before racking your brain trying to fill out your tourney bracket, you'll want to take advantage of free shipping on the Basketball 1oz .999 Silver Medallion from SilverTowne!
Basketball, one of the world's most popular and most-watched sports, was invented in 1891 by physical education instructor Dr. James Naismith. He came up with the game when trying to think of a way to keep his classes busy on rainy days and throughout the winter months. After deciding on the general rules, he nailed a peach basket onto a 10-foot elevated track. Initially the bottom of the peach basket was left in place, but this tended to slow the game down as the ball would have to be retrieved from the basket every time someone successfully made the ball into the basket, so eventually the bottom was removed.
Originally a soccer ball was used to play the game, which was larger than the opening in the basket, so the ball still had to be poked out of the basket after each score. The game evolved over time and in 1906 the peach baskets were replaced with a metal hoop and backboard combination, thus allowing the ball to simply pass through the basket. In the late 1950s players switched to using the orange ball that is commonly used to this day. Orange was chosen as it was much easier for both players and spectators to see than the brown-colored ball that was previously used.
Now you can celebrate this popular sport by adding the Basketball Silver Medallion to your collection – with free shipping for the entire month of March.
Whatever designs you choose, just keep stacking the silver!
Silver of the Month:
Based on customer feedback, the SilverTowne Silver of the Month allows you to add a variety of designs to your silver stacks with a different featured design offered with free shipping each month. As most investors in precious metals know, an ounce of silver is an ounce of silver – but many people like to have different designs in their silver stacks. After all, if you're going to hold physical silver, why not make it fun and interesting as well as practical? By offering free shipping on a different featured design each month, we hope you will be able to add exciting new designs to your silver collection!