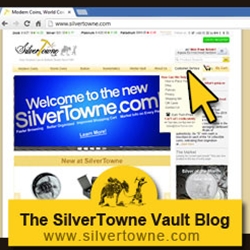 New and Improved!
All of us at SilverTowne strive to bring you the best selection of coins and bullion available online, and at the best possible prices. This is why we feature thousands of items on our website, with more being added daily. We also work hard to make sure shopping the SilverTowne website is an easy and enjoyable experience. As you may know, there has been a large increase in interest in bullion and coin collecting lately – mainly due to the recent activity in the precious metals marketplace. In order to keep up with this increased demand, and to make shopping with SilverTowne even easier, we are excited to announce the arrival of the new & improved SilverTowne.com!
One of the main enhancements we made is actually "behind-the-scenes", with a new server structure. This will help with response times (faster browsing!) and make the site even more stable than it already was. As for updates you will "visually" notice, the header and footer areas are now better organized, while still featuring the relevant information needed to navigate the site. You will now find the current precious metals market spot prices at the top of every page throughout the site. Be sure to keep an eye on that area for even more exciting updates yet to come – including charts, news feeds and more!
Another major improvement you will notice is the navigation menu. Hover your mouse cursor over Modern Coins, World Coins, Bullion or Numismatics and you will instantly be able to see all of the available categories you can shop from. We also re-organized and added more categories, to make it easier for you to find products that interest you. The product search box located in the header has also been enhanced to help you find exactly what you are looking for even quicker. The results returned from your search can now be sorted and filtered, just like you have the ability to do within categories.
Additional changes made to make your shopping experience even better include an improved mini-cart (now located on the right side of the menu bar). The mini-cart now provides a better summarized view of your cart's contents that you can instantly refer to as you shop the site. Once you click through to your cart, you'll notice an improved shopping cart page where you can edit your cart and make any necessary changes. When you click through to checkout, you will be able to complete your purchase with an improved checkout process, with each step clearly identified to help guide you through the process. Furthermore, to give you another secure option to pay for your online purchases, we are now accepting PayPal™ at SilverTowne.com! Just select that option during checkout to complete your purchase via the secure PayPal system. If you have any issues while shopping, logging-in or checking-out, you can now refer to a new article we've created to help guide you through 'How to Place Your Order on SilverTowne.com'.
A few other updates you will notice include: streamlined category and product displays, for a more consistent experience across the site; an improved ShareThis® bar at the bottom of every page, now with trending information (so you can see what's currently hot at SilverTowne); and if you are a dealer, you will now find the dealer login and retail indicators in the footer. Remember, it is our goal to make a functional, easy-to-shop website for everyone to enjoy, so we hope that all of these improvements bring the site closer to that goal. Many ideas for updates come from customers, so please continue to share your thoughts with us. The best way to do this is to leave us feedback at our Facebook page, or email us at sales@silvertowne.com.
We will continue to make improvements to the SilverTowne website in our on-going efforts to meet your needs. Whether you've been doing business with us for years, or are fairly new to the SilverTowne family, we thank you for choosing SilverTowne for all of your numismatic and bullion needs. As our founder Leon Hendrickson is fond of saying, "Make new friends, but keep the old…one is silver, the other is gold".