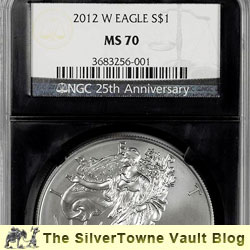 Limited Edition!
To celebrate the 25th anniversary of being in business, the Numismatic Guaranty Corporation (NGC) has released a retro holder with a special label. The retro holder is reminiscent of the original NGC holder used in 1987. These holders feature a stunning black core. The black color really provides an alluring contrast for the encased coins. The holders also feature a special label noting NGC's 25th Anniversary.
The NGC Retro Holders are only being made available on select coins in limited quantities. Some of the popular certified coins that collectors can purchase in the black holders are: 2012 SAE struck at San Francisco Early Release (MS69 and MS70); 2012 SAE struck at West Point Early Release (MS69 and MS70); 2000-2012 Sacagawea Dollar Ultra Cameo PF69; 2012 W Burnished SAE (MS69 and MS70); 2007-2012 Presidential Dollar Ultra Cameo PF69 4pc set; and 2012 75th Anniversary SAE 2pc set (PF69 and PF70).
Due to the limited nature of the retro holders, these special coins will only be available while supplies last. Help NGC celebrate their 25th anniversary by adding some unique certified coins to your collection!