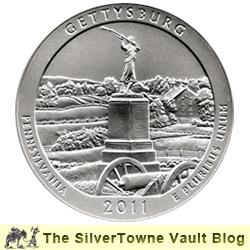 Gettysburg 5 oz Silver Coin
The special collector versions of coins issued through the US Mint America the Beautiful Silver Bullion Coin™ program have been very popular with collectors. The Gettysburg 5oz Coin - the first released in the 2011 P America the Beautiful Five Ounce Silver Uncirculated Coin Series - will most certainly prove to be no exception.
If you've yet to see one of these coins, you're in for a treat - the stunning Uncirculated Silver Coins in this series are quite impressive! These massive coins measure three-inches in diameter, weigh an impressive 5oz, and contain .999 fine silver. The coins produced with an uncirculated finish are struck at the Philadelphia US Mint and therefore display a "P" mint mark. Another nice feature is the edge, which is inscribed with the fineness and weight of the coin.
The 5oz versions of the America the Beautiful Quarters® Program coins feature the same designs as the actual quarters – our country's stunning national parks and other national sites. The 2011 P Gettysburg 5oz Silver Coins depict the 72nd Pennsylvania Infantry Monument, which is located on the battle line of the Union Army at Cemetery Ridge. Demand for these collectible coins is expected to be strong – Buy Yours Now so you don't miss out!