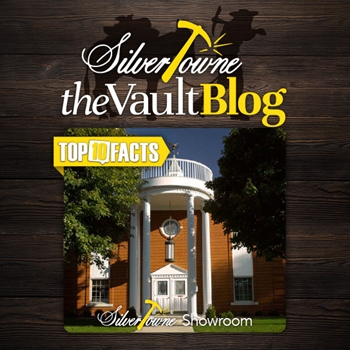 As one of the country's largest and most respected dealers of rare coins, modern coins, and precious metals, SilverTowne provides a wide range of bullion and coins to collectors and investors nationwide. While we do that primarily through our website, we also have a retail showroom in our little town of Winchester, Indiana. Whether you have or have not visited us in house, we decided here are some of the things our customers should know about our shop.
1. SilverTowne was founded over 70 years ago in 1949 by the late Leon Hendrickson and his wife, Ruhama.
From a cigar box under a lunch counter to a multi-million dollar business, it has grown from a small coin shop to a family business that stands firmly on honesty and integrity.
2. It is located in a small town in Indiana.
Located in Winchester, Indiana, we are open for business Monday through Friday from 8am to 5pm EST and are closed weekends and select holidays.
3. Our retail shop is worth visiting.
Once you walk through the doors, you will notice our Czechoslovakian chandelier hanging high from the ceiling. Made from 7,775 cut crystals, the stunning fixture is just one of the breathtaking sites you will encounter. We also show off our solid oak staircase that was custom made in Wisconsin and assembled on site.
4. We buy.
If you decide to come see us in the store, we buy coins, bullion, precious metals, and jewelry for scrap. We ask that if you have more than a shoebox full of products to sell that you make an appointment. We also ask that you come before 4pm EST.
5. We sell silver bullion.
SilverTowne always has the capability to get silver bullion. However, in recent years, silver has been in high demand and while we do keep some in stock, we often run out of it quickly. We have no problem taking an order for you and locking in your price the day of order placement. Please remember, while we may not have it physically available at the time of order, we ALWAYS have the capability to get you what you need as we make it here in Winchester.
6. We also sell gold bullion.
Gold availability is much like silver as we may have some in stock but often run out of it. We can always order what you need. You will only be able to order gold over the phone or in the store, NOT from our website.
7. Numismatic coins are available.
As we do primarily deal in bullion, our front counter is stocked with a number of different numismatic coins and currency. While our inventory is not as large as it used to be, we are fully capable of accommodating a collector's needs.
8. Engraving is available for your silver bullion gift purchase.
We have an in-house engraver available for personalization. Many of our bullion pieces are engravable and can be engraved with messages in 40 characters or less. Dates, names, special messages, and more are available at the same time of purchase.
9. You can pay with cash, check, or credit card.
If you pay with cash or a check, you will always receive a discount. Credit card purchases are 3% more. Please note that a $10,000 purchase or more with cash is reportable. If you pay with a check, it is not.
10. When selling precious metals, certain amounts are reportable.
When selling specific bullion, whether silver, gold, platinum, etc., certain amounts are also reportable to the government. For example, gold bars totaling 1 Kilo or more are reportable. Any size silver bars totaling more than 1,000 Troy Ounces are reportable. Any combination of dimes, quarters, or half dollars when dealing with 90% silver coinage is reportable when it totals $1,000 face value or more.