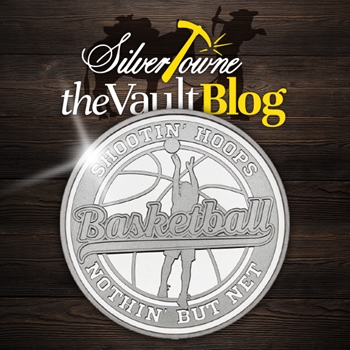 While some view February as the month of love, others look at it as the start of college basketball playoffs. Conferences start lining up their tournaments and teams start making early runs for March Madness. That is why we thought it fitting to make this month's Silver of the Month about basketball. It is a SLAM DUNK if you know what we mean. Not sure what any of that means? Keep reading, please.
Do you like free shipping? Of course, you do. Do you like the opportunity to get silver without having to buy more than what you want? Who doesn't? Welcome to our unofficial official silver of the month club where you do not have to sign up or enter any more information than necessary. All you have to do as a loyal SilverTowne customer is scroll to the bottom right of the homepage to figure out what piece of silver is featured each month and boom, you are in!
Custom minted at the SilverTowne Mint, this exclusive 1oz .999 fine silver round features a basketball player shooting the ball on top of a silhouette of a basketball on the obverse. The word "Basketball" can be seen in classic lettering in the center along with the words "SHOOTIN' HOOPS NOTHIN' BUT NET" along the top and bottom of the medallion. The reverse features our non-dated back with the weight (ONE TROY OUNCE) and the purity (.999 FINE SILVER) displayed around the area left blank for optional engraving.
Your basketball round will come in a protective plastic capsule that fits snugly inside a dark grey premium foam insert. That insert then fits directly into our SilverTowne gift box with natural kraft paper made from recycled materials within the United States. Top off this Silver of the Month option with a custom fitted outer box sleeve featuring a bow that matches school/team colors. There are also a number of different packaging options available upon checkout.