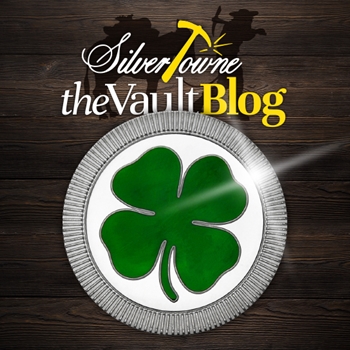 Starting off a new year, we all could use a little luck. While we make our resolutions and try to drop bad habits while creating good ones, sometimes it's nice to know we have something that could help push us along. That is why January's Silver of the Month could not have been a more perfect option for those looking for a little more luck to get 2022 started off with!
Do you like free shipping? Of course, you do. Do you like the opportunity to get silver without having to buy more than what you want? Who doesn't? Welcome to our unofficial official silver of the month club where you do not have to sign up or enter any more information than necessary. All you have to do as a loyal SilverTowne customer is scroll to the bottom right of the homepage to figure out what piece of silver is featured each month and boom, you are in!
Custom minted at the SilverTowne Mint in Winchester, Indiana, this exclusive round features a 4-leaf clover stamped into a Prooflike background on the obverse. According to tradition, 4-leaf clovers bring good luck as each leaf is said to represent different sentiments including faith, hope, love, and luck.The medallion itself also features a stackable rim making it easy to store with other stackable options! The 4-leaf clover itself is hand-painted in a deep green color by SilverTowne artists and topped off with a clear coat. The reverse features a standard non-dated stackable rim design that designates the weight (ONE TROY OUNCE) and the purity (.999 FINE SILVER) around an area left blank for optional engraving.
This special round is also available non-enameled.
Your Silver of the Month 4-Leaf Clover Stackable Enameled medallion will arrive in a protective plastic capsule to ensure safety during the shipping process. It will fit snugly inside a premium dark grey foam insert that will then fit directly into our in-house design SilverTowne gift box with natural kraft paper made from recycled materials from within the United States. Top off this beautiful option with a custom fitted outer box sleeve featuring the Green Ribbon/Bow design. There are also a number of alternate packaging options available upon checkout!