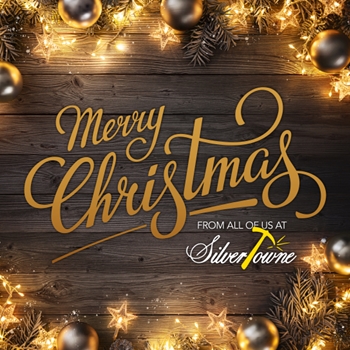 Christmas is just four days away and we cannot believe it! This holiday season has been incredibly busy for us here at SilverTowne, which makes us incredibly grateful for the customers that we have. Schedules get hectic, days grow longer, money gets tighter, and in some places, the weather gets colder. We understand the hustle and bustle and it does not go unnoticed when you choose to spend your time and your hard earned money with us.
Our little small town business here in rural Indiana has been aglow with Christmas decorations while the faint sound of Christmas music has made its way throughout the building. While we all have separate jobs to do, we all have the same common goal which is to make our customers' experiences with us as happy as possible. We hope we have done that for you and we only wish to continue our efforts for those experiences in the future.
As we wrap up 2021, we thought we would give you some personalized messages from some of our employees expressing their gratitude for the season and for you. Before we get to that, we wanted to wish you a blessed and safe holiday! Merry Christmas!
"I volunteer as a Child Advocate for our county and this time of year is all about giving for my family. It's a time that I sit back with my children and reflect on the past year and discuss the obstacles, challenges & celebrations that we have had together. It's a time to remind my children that Christmas is not about getting gifts; it's about giving to those less fortunate and about celebrating the birth of Jesus Christ and sharing his word. There are two traditions that I have carried on for 20 years now with my two daughters. One, we make Jesus a birthday cake together on Christmas Eve in our pajamas and then watch a Christmas movie or two together. Two, we make biscuits and gravy Christmas morning and eat together before we even think about opening any gifts. Not having my mother to celebrate the holidays with throughout my adult life has been tough. However, having a great work family such as everyone here at The Coin Vault & all of our amazing customers sure makes the holidays enjoyable. I wish you all a Merry Christmas & Happy New Year." - God Bless - Andie James & family - Preferred Customer Division representative for The Coin Vault (SilverTowne's subsidiary company)
"I am very thankful to work for a company that cares and appreciates their employees. It is a relief to walk into a family-like atmosphere with so much going on in the world today. I couldn't ask for better co-workers and supervisors. They have really brought back the joy of Christmas for me." - Jessica Curless - Customer Service Specialist for The Coin Vault (SilverTowne's subsidiary company)
"During the holidays I like to slow down and take time to reflect on what is profoundly important to me. I feel extremely blessed to work for our company. The CEO of SilverTowne/The Coin Vault, Brock, cultivates a family-oriented business culture that allows employees to not only feel that they are important, but one that provides support and flexibility for a healthy work-life balance. I feel extremely blessed to have a leader who shares similar values and one that allows his employees to put their family first. This year has been extremely successful for my department and with the success comes long hours and challenging work. It's good to have the support of the company while trying to balance my life outside of work, especially since I am in the process of adopting my son right now. I could not imagine being with another company now that I have been here for almost a decade." - Leah Williams - Sales Manager of the Preferred Customer Division for The Coin Vault (SilverTowne's subsidiary company)
"This time of year, there is definitely a buzz in the air at SilverTowne. Christmas carols can be heard throughout the building. Decorations are up all over the place. Everyone is extremely busy from the front sales counter all the way back to product fulfillment and shipping. We're getting close to "the big day"… the day we've worked so hard for all year long. For us, Christmas is the culmination of an entire year of hard work, planning and preparation. Throughout the holiday sales season, it's fun to watch how the pieces sell in terms of popularity. There's a sense of accomplishment and pride felt when a new design is a popular gift choice among our loyal customers. With Christmas as a time to reflect, it is a true blessing to come to work here every day." - Vickie Wilson - Graphic Designer, Web
"It has been a year of blessings for me. I have been working from home during the hustle and bustle of Christmastime at SilverTowne this year. Remembering past years, I always enjoy helping customers check off their Christmas lists and listening to their stories of making Christmas silver a tradition in their families. Personally, my family and friends from all over the world have blessed me with prayers, cards, gifts, meals and encouraging words as we conquer this journey of cancer together. God is good all the time and all the time God is good." - Rita Graft - Sales/Customer Service
"My fondest memory from childhood is my family and another family every Christmas Eve would drive around and look at Christmas lights. We would go back to one of our homes afterwards and the adults would stay up and play cards. Every Christmas Eve we were bribed with Santa to go to bed early. They would go as far as to ring a bell from the kitchen and periodically say, 'Do you guys hear that? Santa must be close!' I miss those days with friends and family. As far as SilverTowne, the front coin counter gets pretty popular at this time of year. It's amazing how we remember the people that come in every year just for Christmas gifts and to hear the traditions that they have made with some of our products. One of my favorites is the grandparents that give their grandkids a silver piece to hang from the tree. Their parents have a traditional tree and the grandkids have a tree of their own with all of their silver on it. I'm sure the pictures don't do justice to how the silver glows from the Christmas tree lights." - Nikki Cox - Front Counter Sales Manager
"One of the special memories that floods my mind this time of year is making Christmas cookies with my family. Our mom bakes them and then ices them. Then the assembly line for decorating were my brothers and I. We've since passed this on to our kids and to theirs trying to keep that tradition alive." - Missy Pearson - Purchasing Agent
"For me, the Christmas season for engraving gets started in October. It completely explodes in November, and each year I think I can't get it all done, but miraculously I do. Customer engravings have grown by leaps and bounds the past few years. Thankfully I have fellow employees that jump in to help package the orders and it all gets done. That leaves me very grateful each year." - Carol Rhoades - Engraving/Customer Service
"A few things that I am thankful for are my family and friends, my health and my job. Christmas is the time of year that we are a little kinder to others and more generous to those who are less fortunate." - Dorrey McCoy - Preferred Customer Division representative for The Coin Vault (SilverTowne's subsidiary company)
"Christmas has always been a very busy, but fun time of year for me personally, as well as professionally since getting hired at SilverTowne close to seven years ago. When I took over eBay fulfillment, and then shortly after took over the mint scheduling/ordering, I quickly understood how much everyone adored the Christmas pieces that we produce here. While Christmas time at SilverTowne is hectic, I thoroughly enjoy being able to assist in the process of helping to keep up their Christmas traditions with getting special customized designs. Personally, Christmas time is my favorite time to reflect on all that I am thankful for with being able to spend extra time with my family over the holidays. I am most excited about being able to carry on and create special memories and traditions with my daughter that my parents did with me." - Kortni Braun - Accounts Payable/Purchasing
"Christmas decorations start to go up the day after Thanksgiving here at the shop. From the front counter through shipping and all the way back to The Coin Vault's studio, trees, lights, stockings, ornaments, ribbons, and more make their appearance yet again in celebration of the holidays. It's pretty magical in a sense that no matter what the year brought, the good and the bad, we can always rely on the holidays to bring out a little more in us—the good in us. We have a tendency to get so caught up in our own worlds that we forget about everything else moving on around us. Christmastime is one of those annual occasions that we perhaps get the busiest, but it's also one of those times that we stop and look around and gain a little perspective. I'm immensely grateful to have two families to think about around the holidays: my own personal family and my SilverTowne family. It is not lost on me that I am very lucky to have such a group of people in my life and the holidays are that much sweeter because of it." - Kristine Arnold - Content Strategist/Television Graphics (The Coin Vault)