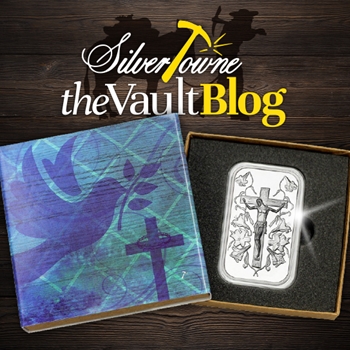 'Tis the season to be jolly, busy, and to remember He is the reason we celebrate Christmas every year. Once the month of December hits, everything seems to happen in a blur, but with Him in mind, we decided that our Silver of the Month should reflect the true meaning of the holidays. Not sure what the Silver of the Month means? Let us help explain.
Do you like free shipping? Of course, you do. Do you like the opportunity to get silver without having to buy more than what you want? Who doesn't? Welcome to our unofficial official silver of the month club where you do not have to sign up or enter any more information than necessary. All you have to do as a loyal SilverTowne customer is scroll to the bottom right of the homepage to figure out what piece of silver is featured each month and boom, you are in!
Depicted on the obverse of this silver bar is the crucifixion of Jesus Christ as Golgotha. Isaiah 53:5 reminds us that Jesus Christ "was wounded for our transgressions, He was bruised for our iniquities; The chastisement for our peace was upon Him, And by His stripes we are healed." Christ willingly went to the cross as our substitute and without his sacrifice, each of us would face the penalty of death for our own sins. The high relief image on our silver bar features Jesus on the Cross. The 3D-like effect coming off the bar features Christ on the old rugged cross as Easter Lily flowers flow around him symbolizing Christ's purity as the sacrificial lamb.
The reverse of the silver ingot features the weight (ONE OUNCE) and purity (.999 FINE SILVER) around a designated area left blank for optional engraving.
Your silver ingot will come in a protective plastic capsule that fits directly inside a premium dark grey foam insert to hold your piece snug. It will then fit directly into our in-house designed SilverTowne gift box made in the United States from recycled natural kraft paper. Choose our religious-themed outer box sleeve to top this silver purchase off. There are a number of alternate packaging options available upon checkout!