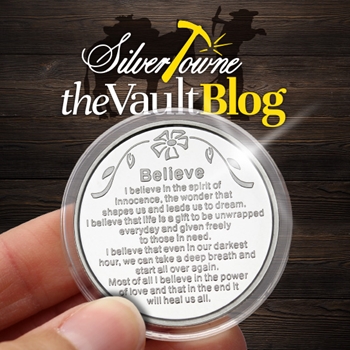 It is the second to last month of 2021---can you BELIEVE it?!?!
November kicks off the busiest time of year for a lot of us. It's the holiday season full of family and gatherings. It's a time to honor and remember those veterans who have served this country with the ultimate sacrifice. It's also a time to practice one of the most important civic duties there is as an American which is voting on Election Day. Daylight Savings Time will introduce an extra hour but give us shorter periods of daylight. For some Hanukkah will begin, leading us into the last days of the year. However, the month will fly by and soon we will be in the homestretch ringing in 2022. So, once again, can you BELIEVE it?!?!
If you have not put it together yet, the word Believe is a strong one for the introduction of November's Silver of the Month. We have a silver medallion that incorporates a strong message of hope and the power of love. While we tend to get busy during this time of year and undoubtedly let the stress set in, this powerful message comes in handy for that gentle reminder that life is precious. If you need another gentle reminder of what the Silver of the Month option means for you, keep reading.
Do you like free shipping? Of course, you do. Do you like the opportunity to get silver without having to buy more than what you want? Who doesn't? Welcome to our unofficial official silver of the month club where you do not have to sign up or enter any more information than necessary. All you have to do as a loyal SilverTowne customer is scroll to the bottom right of the homepage to figure out what piece of silver is featured each month and boom, you are in!
Custom minted in Winchester, Indiana, this exclusive round features a full quote on the obverse (author unknown) reminding us of the power of hope and love. Above the quote is a flower and vine design. The quote reads as follows:
Believe
I believe in the spirit of innocence, the wonder that shapes us and leads us to dream. I believe that life is a gift to be unwrapped everyday and given freely to those in need. I believe that even in our darkest hour, we can take a deep breath and start all over again. Most of all I believe in the power of love and that in the end it will heal us all.
The reverse features our standard non-dated back with the weight (ONE TROY OUNCE) and purity (.999 FINE SILVER) displayed around the area designated for optional engraving.
Your Silver of the Month medallion will arrive in a protective plastic capsule that fits inside a premium dark grey foam insert. That insert then fits directly into our in-house designed SilverTowne gift box with natural kraft paper made from recycled materials within the United States. Choose from a number of custom fitted outer box sleeves to top off this inspirational silver round upon checkout.