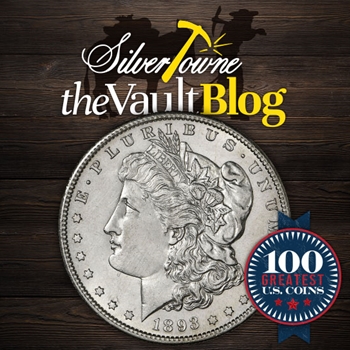 Perhaps one of the most desired, most collected, and most talked about coins from United States coinage history is the Morgan Silver Dollar. Its eye appeal alone is enough to give it top tier accreditation, but throw in its many different mint location strikes, its significant mintage years, and the fact that it has been the backbone of the numismatic hobby since its inception and you will understand why it has littered the 100 Greatest United States coins list in a number of ways. With help from author Jeff Garrett, we will explore a Morgan Silver Dollar from the early 1890's that is considered to be one of the most rare, if not the rarest, of the entire series.
#38 - 1893-S Morgan Silver Dollar
Morgan Silver Dollars were issued between 1878 and 1921. Out of all those years, the 1893-S was the lowest minted with just 100,000 struck. Because of its rarity, collectors who find themselves looking to own a complete set of Morgan Silver Dollars most likely pay a pretty penny.
Many are left wondering why the 1893-S was struck in such low numbers and the reason is The Panic of 1893. With the economy in turmoil, there were great disparities in the value of gold and silver. It is even likely that of the 100,000 struck, many 1893-S Morgan Silver Dollars were melted down as a result of the 1918 Pittman Act, a bill authorizing the melting of up to 350 million silver dollars and would then be sold to Great Britain for one dollar per ounce of bullion. Most of the 1893-S Morgans that survived are highly worn and Mint State examples are hard to find.
Historical value for the George T. Morgan design from 1893 in 1960 with a Choice Uncirculated designation was $2,500. By 2015, the fourth edition of this Whitman publication had it valued at $175,000.