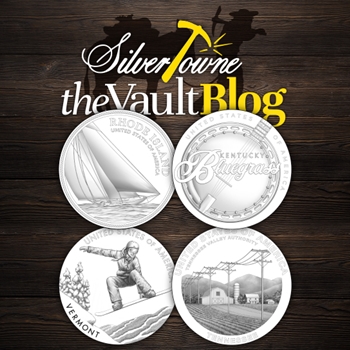 As the year 2021 is coming to an end, it is time to start looking ahead to everything coming up in 2022. For the United States Mint, one of those things is finalizing the next four coin designs for the American Innovation $1 Coin Program. Earlier this month, they officially announced next year's designs for the multi-year series that started back in 2018 with its intent to honor innovation and innovators from all 50 states, the District of Columbia, and the five U.S. territories. Approved by the Secretary of Treasury Janet Yellen, the coin designs will highlight innovators and innovation from the states of Rhode Island, Vermont, Kentucky, and Tennessee.
Rhode Island
Designed by Dennis Friel of the Artistic Infusion Program (AIP) and sculpted by United States Mint Medallic Artist Phebe Hemphill, the reverse of the Rhode Island $1 Coin will honor the famous yacht Reliance designed by Nathanael Herreshoff. The yacht is depicted at full speed in the Rhode Island waters. Keeping with the nautical theme, a rope is bordering the entire coin with "UNITED STATES OF AMERICA" and "RHODE ISLAND" inscribed at the top right arc of the design.
Vermont
Featuring a young female snowboarder performing a trick called the "melon grab," the design is set against a mountain in the winter of Vermont. Designer Justin Kunz (AIP) looked to "capture a sense of the energy and exuberance of snowboarding through movement." Sculpted by Mint Medallic Artist Craig Campbell, inscriptions "VERMONT" and "UNITED STATES OF AMERICA" are also seen on the reverse design.
Kentucky
Nicknamed "the Bluegrass State," it was inevitable that Kentucky's coin design would pay homage to bluegrass music. The design, created by Christina Hess (AIP) and sculpted by Mint Medallic Artist Renata Gordon, features a banjo as it is an important instrument in the genre. Inscriptions on the design also feature the words "UNITED STATES OF AMERICA," "BLUEGRASS," and "KENTUCKY."
Tennessee
Tennessee's obverse design honors the Tennessee Valley Authority's innovation when it comes to "economic development across rural communities." The coin depicts newly installed power lines along the road of a Tennessee farm. Inscriptions read "UNITED STATES OF AMERICA," "TENNESSEE VALLEY AUTHORITY," and "TENNESSEE." The reverse was designed by Matt Swaim (AIP) and sculpted by Chief Engraver of the United States Mint Joseph Menna.
All the coins will feature the depiction of the Statue of Liberty on the obverse with "IN GOD WE TRUST" and "$1" also seen inscribed on the design. A privy mark in the form of a stylized gear is also seen symbolizing the industry and innovation of the series. Included on the edge of all the coins are "2022," the mint mark from the location from which they came, and "E PLURIBUS UNUM."
Source: United States Mint