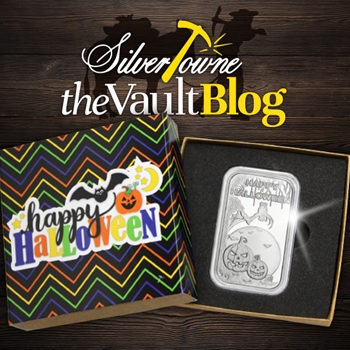 "I am the shadow on the moon at night, filling your dreams to the brim with fright!" - Oogie Boogie - The Nightmare Before Christmas
Just a month away is, as some would say, the best time of the year. Halloween night will greet us, or scare us, with costumes, candy, decorations, and trick-or-treating. However, adding to the list in this time of celebration and superstition is silver bullion! With a collection of designs, Halloween-themed silver bullion is always a hit amongst our collectors. Making it even better this year specifically, the pieces are now featured with the year on the back!
Custom minted at the SilverTowne Mint, this exclusive ingot features "Happy Halloween" across the top on the obverse. Sitting atop a spooky night scene in the woods featuring an owl perched on a branch, a pair of Jack-O-Lanterns, and a full moon, this brand new medallion is sure to please the biggest of Halloween enthusiasts! It also features a cobweb in a tree branch, bats flying, and spooky eyes on the ground. The reverse features our current year-dated back as "2021" can be seen in addition to the weight (ONE TROY OUNCE) and purity (.999 FINE SILVER) designation.
You can also get this exact design in an enameled version, hand-painted by our own staff artists.
Your Frightful Night bullion piece will arrive in a protective plastic capsule that fits snugly inside a premium dark grey foam insert. That insert fits directly into our in-house designed SilverTowne gift box with natural kraft paper made from recycled materials within the United States. To add that extra Halloween flare, choose a custom fitted box sleeve featuring a festive Halloween design complete with a bat and a Jack-O-Lantern! There are also a number of alternate packaging options available upon checkout!
View all Halloween-themed silver bullion options here.