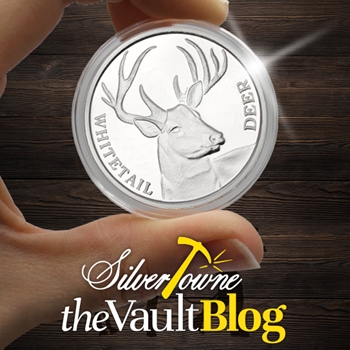 The month of September presents us with the end of Summer and the beginning of Fall. The changing of the seasons signals a shift not only in the weather, but also a shift in mindset for most. While the introduction of Fall seems to get blurred inside the lines of Summer with pumpkin-spice everything and the initiation of decorations and even Halloween candy littering the aisles before September even comes around, there are things that remain in their lane. One of those things being, for obvious reasons, is hunting season.
For us in Indiana, the end of September/October through the Winter is primetime season for most. More importantly, deer season begins in early November and many look forward to it every year. For that occasion, and really all year round, we have a silver bullion option that can be used to commemorate the season for the hunting enthusiast in your life. So while the season will not start for another couple of months, why not get yours early as we have it available for our Silver of the Month piece. Keep reading if you are interested in what that means.
Do you like free shipping? Of course, you do. Do you like the opportunity to get silver without having to buy more than what you want? Who doesn't? Welcome to our unofficial official silver of the month club where you do not have to sign up or enter any more information than necessary. All you have to do as a loyal SilverTowne customer is scroll to the bottom right of the homepage to figure out what piece of silver is featured each month and boom, you are in!
Custom minted in the United States, this .999 fine silver medallion features a 10-point buck on the obverse with the inscription "Whitetail Deer" on either side of it. The reverse features our standard non-dated back with the weight (ONE OUNCE) and purity (.999 FINE SILVER) designated around the area meant for optional engraving.
Your Whitetail Deer Silver bullion piece will arrive in a protective plastic capsule that fits snugly inside a premium dark grey foam insert. That insert fits directly into our in-house designed SilverTowne gift box with natural kraft paper made from recycled materials within the United States. To really bring home the gift and give it that extra flare, choose a custom fitted box sleeve featuring Camo print or from several other options available upon checkout!