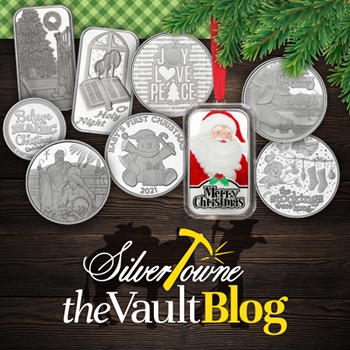 It never fails that this time of year sneaks up on us yet we remain surprised at how it does so. While half of 2021 has come and gone, the tail end of the year will be here in a blink of an eye. We know that's a tough pill to swallow, but what makes it easier is that the happiest time of year is approaching and hey, who doesn't love Christmas?!?!?
For anyone that does not know, Christmas is a year-round thing for us. Between new designs, choosing recycled ones to bring back, approvals, die creations, production, and eventual retail offerings, there is only a few months out of the year that our in-house design team IS NOT thinking about the holiday season. So, for all of those loyal SilverTowne customers that find this time of year exciting for the unveiling of the brand new collection, we are here to let you know that this Christmas in July is one for the books.
With 14 different designs featured in the 2021 Christmas Collection, we have something for everyone courtesy of our in-house design team. Options include plain one-ounce and half-ounce pieces as well as two enameled options and a bronze medallion. Continue the tradition of adding SilverTowne Christmas silver bullion to your collection and get a head start with your list!
Plain Silver 1oz .999 Medallions/Ingots feature the following design names and item codes:
Enameled Silver 1oz .999 Medallion/Ingot options includes the following design names and item codes:
Other Christmas Collection Options include the following design name and item code:
New Packaging Options/2pc Gift Sets
Along with new designs this year, there are a couple new outer box sleeves that have been added to the rotation. A Green Merry Christmas and Black & White Plaid Merry Christmas Box Sleeve are the perfect addition to any Christmas silver gift!
Two-piece gift sets will be available once again with red velvet inserts featuring different Christmas sayings. Outer box sleeves will come with the sets for easy gifting. All 2pc sets will feature the 2021 Type 2 American Silver Eagle.
American Silver Eagle gift holders as well as ornament capsules and foam ornament stockings will also be available.