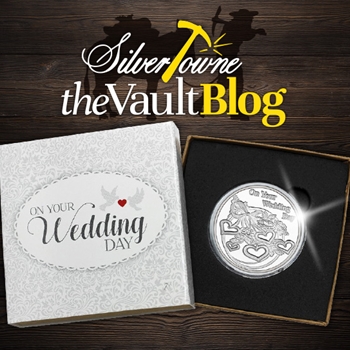 Wedding season is fast approaching and thankfully, for a lot of brides and grooms, it will look a lot different than last year. To celebrate the occasion, we are always here to lend a helping hand in the form of offering unique silver gifts. Instead of money or things that can easily be bought by oneself, why not commemorate the special day and give the ultimate gift that keeps giving? In honor of wedding season, we wanted to make our June silver of the month a special piece that helps out many wondering what they should get the beautiful couple. Not entirely sure what the silver of the month means? Let us explain.
Do you like free shipping? Of course, you do. Do you like the opportunity to get silver without having to buy more than what you want? Who doesn't? Welcome to our unofficial official silver of the month club where you do not have to sign up or enter any more information than necessary. All you have to do as a loyal SilverTowne customer is scroll to the bottom right of the homepage to figure out what piece of silver is featured each month and boom, you are in!
Custom minted in the United States of America at the SilverTowne Mint, this .999 fine silver medallion features the words "On Your Wedding Day" inscribed towards the top of the design on the obverse with a bouquet of hearts, flowers, and ribbons featured below them. The reverse is a standard 2021-dated design with the weight (ONE TROY OUNCE) and the purity (.999 FINE SILVER) seen around the area left blank for optional engraving. The year "2021" is also shown at the very bottom.
Your special silver bullion round will arrive in a protective plastic capsule to ensure its safety. It will then fit snugly inside a premium dark grey foam insert that will come inside our in-house designed SilverTowne gift box made with natural kraft paper that comes from recycled materials within the United States. Choose a custom fitted and designed outer box sleeve to top off the gift, like our Wedding themed sleeve. You can also choose from a number of alternative packaging options upon checkout.
As always, to take this special wedding gift a step further, you can choose to engrave a message to the happy couple on the back. In 40 characters or less, let them know how happy you are for them and make this a keepsake they will remember for years to come!