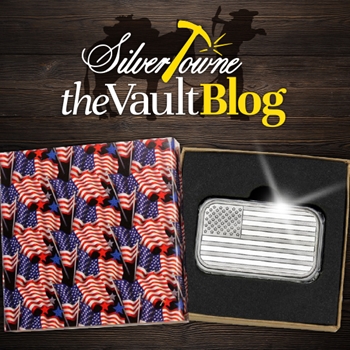 For the last however many months (we've lost count honestly), the demand for silver has caused a lot of things to happen in the bullion world and the overall market. While the prices have gone up and down, up and down, we have been consistently busy with production and still are on shipping delays. This has caused us to streamline production by only running certain bullion options, opting out of offering a lot of silver designs customers are so used to ordering whenever they please.
In the meantime, we have run a few options in small quantities until bulk orders are caught up. One of those options? The VERY popular American Flag 1oz .999 Fine Silver Bar. Offered only with the Gift Box option for a limited time and until inventory is depleted, celebrate the Stars and Stripes in style!
Custom minted in the United States of America, this one-ounce .999 fine silver bar features all 50 stars and 13 stripes that make up the American Flag on the obverse. The entire bar features a matte appearance except for the alternating stripes that also feature a prooflike, reflective surface to represent the white stripes in the original colored flag. The reverse is a standard, non-dated design that includes the weight (ONE OUNCE) and purity (.999 FINE SILVER) around the area left blank for optional engraving.
Arriving in a protective plastic capsule, your American Flag 1oz .999 Fine Silver Bar will fit snugly inside a premium dark grey foam insert that goes inside our custom SilverTowne gift box which is made in the USA from recycled material. To complete this purchase, our original SilverTowne outer box sleeve featuring the American Flag pattern is a perfect way to enhance the most widely recognized symbol of our nation. There is a special area designated on the back of the sleeve for To/From messages, making gift-giving easy and convenient! No gift wrapping is needed! There are also a number of alternate packaging options available upon checkout.