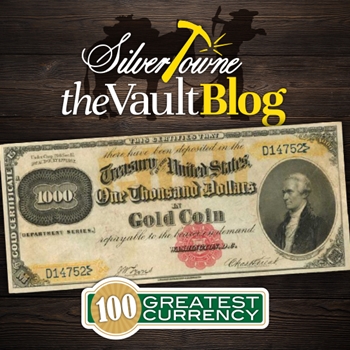 Sometimes when we talk about currency notes, it is hard to believe that denominations reached as high as $1,000 let alone even higher. While the Federal Reserve stopped issuing $1,000 bills and higher in the 1940s and even ended up recalling them in the late 1960s, their popularity today has increased just as their values have over the years. So it only makes sense that these larger denominations would make their way onto a list compiling the top 100 Greatest American Currency Notes.
With authors Q. David Bowers and David M. Sundman taking us through this next entry in the Whitman Publishing publication, we will take a closer look at a note that is one of eight entries to feature a $1,000 note depicting one of the Founding Fathers of the United States, Alexander Hamilton.
#80 - Series of 1882 $1,000 Gold Certificate
Throughout this series, according to authors Bowers and Sundman, $1,000 notes featuring the portrait of Alexander Hamilton reigned supreme among the voters as eight entries total featuring different types of the notes made the list. It makes complete sense that Hamilton would be so popular as he was essential in financial parts of the early days of government.
The $1,000 gold certificate started with a single Friedberg number (F-1218) and eventually expanded with added letters 'a' through 'g' to represent different seal varieties and Treasury signatures. Of the different varieties within this type (F-1218), Martin Gengerke (paper money specialist) records just 22 known today as ten of them are featured in the National Numismatic Collection at the Smithsonian.
Hamilton was appointed to the first secretary of the Treasury under President George Washington in 1789 and held the position until 1795. He created programs that sought to strengthen the finances of young America, particularly by building credit domestically. However, he also pursued the idea of building credit with foreign countries with a focus on Europe.
The historic market value for this series 1882 $1,000 Gold Certificate was $1,650 in 1960 for an Extra Fine condition. By 2006, it reached $275,000.