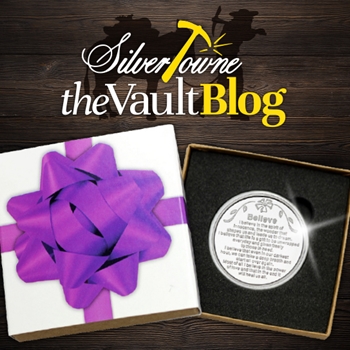 We are nearly halfway through the year and goodness, can you believe it? While we are still navigating our way through what 2021 has brought us and has yet to bring us, it has been apparent that we shall remain hopeful despite the unparalleled times. That is why for May's silver of the month bullion option, we chose what we think is an appropriate two birds with one stone silver round that not only will be a featured deal for the entire month, but will also bring about a little inspiration. Not sure what the silver of the month silver bullion means for you? Keep reading, please.
Do you like free shipping? Of course, you do. Do you like the opportunity to get silver without having to buy more than what you want? Who doesn't? Welcome to our unofficial official silver of the month club where you do not have to sign up or enter any more information than necessary. All you have to do as a loyal SilverTowne customer is scroll to the bottom right of the homepage to figure out what piece of silver is featured each month and boom, you are in!
Exclusive to SilverTowne and custom minted at our own SilverTowne Mint in rural Indiana, this one-ounce .999 fine silver bullion round features a full quote on the obverse by an unknown source. The quotes reads as follows: "Believe I believe in the spirit of innocence, the wonder that shapes us and leads us to dream. I believe that life is a gift to be unwrapped everyday and given freely to those in need. I believe that even in our darkest hour, we can take a deep breath and start all over again. Most of all I believe in the power of love and that in the end it will heal us all." Above the quote on the obverse is a flower and vine design around the top arc of the bullion round.
The reverse features our standard non-dated back with the weight (ONE TROY OUNCE) and purity (.999 FINE SILVER) displayed around the top arc. The middle is left blank for optional engraving.
Your "Believe" silver medallion will arrive in a protective plastic capsule to ensure its safety during the shipping process. It will then fit snugly inside of a premium dark grey foam insert that fits directly into our in-house design SilverTowne gift box with natural kraft paper made from recycled materials within the United States. Choose from a number of packaging options at checkout, including a custom fitted outer box sleeve that fits directly over the gift box. It was also designed with personalization in mind as the back features a blank area on the back for your To/From message. No gift wrapping or extras needed!