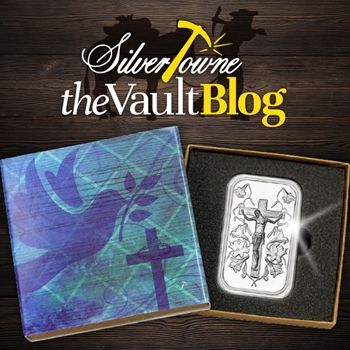 Easter is just 12 days away and we here at SilverTowne have experienced a different kind of year surrounding Easter-themed silver bullion. While normally we would still have available specific pieces surrounding the holiday, a certain "silver squeeze" happening in February alongside an ongoing high demand for the precious metal, we have had to streamline production by only offering core pieces. That means when we had Easter silver bullion, it sold fast with no expectations of making more and all of that happened months in advance of Easter Sunday.
However, we are here to remind you that we DO have a few religious-themed silver bullion pieces that would make exceptional gifts! While candy and hopping bunny rabbits sure do remind us of the holiday, we do have to remember that this time of year is all about the Resurrection of Jesus Christ. Let us not forget that! While the pieces are normally available all year round, our religious-themed silver bullion collection tends to do particularly well during the early months of the year.
Custom minted at our own SilverTowne Mint in Winchester, Indiana, this .999 fine silver bar depicts the crucifixion of Jesus Christ at Golgotha on the obverse. A high relief image of Jesus on the Cross is featured as the scene appears in a 3D-like effect coming off the bar. Surrounding Him are Easter Lilies, representing Christ's purity as the sacrificial lamb. The reverse of the bar features an open area for optional engraving. The weight (ONE OUNCE) and purity (.999 FINE SILVER) are displayed around the border of the design.
The obverse of this silver round features the most universally recognized symbol of Christianity, the Cross. Representing Christ's crucifixion on Good Friday and His resurrection on Easter Sunday, the Cross is the centerpiece of this .999 fine silver medallion on the obverse. Exclusive to SilverTowne, the cross has a frosted finish and is wrapped in Easter Lilies with two hummingbirds hovering around the flowers seeking out nectar. All of this sits atop a reflective proof-like background. The reverse features our non-dated design with an open area left for optional engraving. The weight (ONE TROY OUNCE) and purity (.999 FINE SILVER) are designated around the border.
Your religious silver bullion pieces will arrive in a protective plastic capsule to ensure safety during the shipping process. They will then fit snugly inside a dark grey foam insert that fits directly inside our in-house design SilverTowne gift box with natural kraft paper made from recycled materials within the U.S.A. Top off these gifts with a custom outer box sleeve featuring a religious-themed design. There are also a number of alternate packaging options available upon checkout!