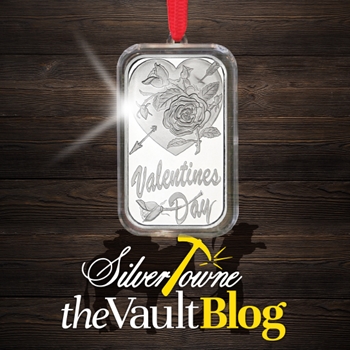 We are one month away from the holiday of love (or at least commercially). Valentine's Day is normally celebrated with flowers, cards, chocolate, wine, fancy dinners, etc. How about we offer you a chance to show your appreciation and affection in a different way? Silver bullion is a great symbol of love.
Our Valentine's Day silver bullion collection is sure to have something for everyone. Whether it is our new 2021 design in enameled or plain silver or a colorized rose that remains a staple in over everyday offerings, you are sure to win major points for these silver gifts come February 14th.
Custom minted at our very own SilverTowne Mint in Winchester, Indiana, this exclusive .999 fine silver bar features the words "Valentines Day" at the bottom of the design on the obverse. There is a Cupid's arrow going through a heart at the top and roses featured throughout the design. The reverse depicts our standard current year-dated back with the weight (ONE TROY OUNCE) and purity (.999 FINE SILVER) designated at the top and bottom. The year (2021) is featured along both sides of the area left blank for optional and personalized engraving.
This Valentine's Day Roses & Cupid's Arrow 1oz .999 Silver Bar is also available in enameled. The obverse is hand-painted with red roses and green stems with an all-over glitter finish to enhance the already beautiful silver bar.
Your Valentine's Day bar will come in a protective plastic capsule to ensure maximum protection during the shipping process. It will then fit snugly down inside of a premium dark grey foam insert that fits directly into our in-house designed SilverTowne gift box with natural kraft paper made from recycled materials in the United States. Top off this special gift with a custom-fitted outer box sleeve that says "Happy Valentine's Day" atop a black and white striped background with red hearts. You can also choose from a number of alternate packaging options including several outer box sleeve designs to fit your needs. The in-house designed sleeves were created with you in mind as the back features a blank area for writing a From/To message. No gift wrapping required!
Do not stop here! Make this an even more memorable keepsake gift to the one you love with an engraved message! Tell that special person how much they mean to you in 40 characters or less with our customizable and personalized engraving option! Each silver bullion piece features a blank area on the back designated for personalization. Go above and beyond this holiday!