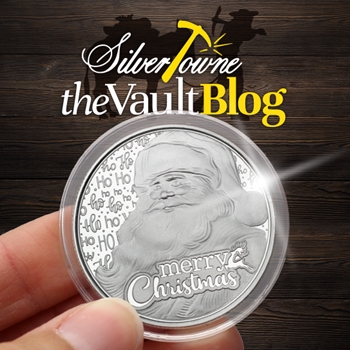 ♫♫ He's making a list, He's checking it twice, He's gonna find out who's naughty or nice. Santa Claus is coming to town...♫♫
The days of December are tick, tick, ticking away right in front of us and soon it will be THE day that Jolly St. Nicholas makes his appearance in a city near you! We know he likes to make an entrance and we know his famous words "Ho, Ho, Ho!" are soon to follow. Here at SilverTowne, we wanted to encapsulate that joyous moment on a .999 fine silver piece from our 2020 Christmas Collection! Santa Claus is a classic symbol of the holiday season and we wanted to give our collectors a chance to pass that on to someone special to them. Plus, Christmas silver gifts are unique and memorable and are guaranteed to make a lasting impression on someone who is on your list this year!
If you are a routine customer of ours at SilverTowne, you already know the drill this time of year. If you are not, we welcome you with open arms to explore not only our complete and exclusive line of silver bullion but specifically our 2020 Christmas Silver Collection! All custom minted at our own SilverTowne Mint in Winchester, Indiana, using .999 fine silver bullion, these pieces are designed and produced in-house with festive packaging to complete your holiday shopping lists!
The obverse of this .999 fine silver medallion features Santa himself wearing his classic hat. The words "Merry Christmas" and a reindeer are seen towards the bottom of the design in stylized writing with the famous "ho, ho, ho" seen over and over again in the reflective background. The reverse features our standard Christmas design dated "2020" at the bottom outer edge of the design. The weight (ONE TROY OUNCE) and the purity (.999 FINE SILVER) are inscribed along the bottom arc of the area left for optional engraving. Lastly, a special Christmas message can be seen following the top arc of the reverse design: "Best Wishes For Peace And Joy This Holiday Season." This design is also available in bronze.
Your Merry Christmas Santa Claus Ho Ho Ho Medallion will come protected in a plastic capsule to ensure its safety. The piece will then fit snugly inside of a premium dark grey foam insert that will then fit directly into our in-house designed SilverTowne gift box made of recycled material. Finish your Christmas silver gift off with one of our specially designed Christmas outer box sleeves! The sleeves are designed with a blank area on the back to write a message To/From with the gift-giving season in mind. No gift wrapping is needed! There are a number of other packaging options available at checkout including other outer box sleeve designs, additional box options, and ornament capsules (pictured).