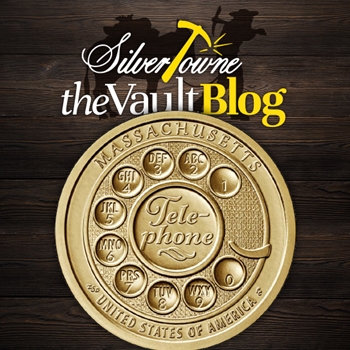 The American Innovation $1 Coin series has not seen very many releases this year. No one knows for sure if their scheduled issues took a backseat to the COVID-19 pandemic or if it was planned that way by the United States Mint. No matter the reasoning, the remainder of their releases are scheduled for the tail end of this year...for now. However, the next release in the series takes place today at 12 PM EST.
The sixth state to be released, the Massachusetts $1 Coin will be released in 25-coin rolls and 100-coin bags from both the Philadelphia and Denver Mints on October 29th. The multi-year series began in 2018 with an Introductory coin and continued on into 2019 with the first four states (Delaware, Pennsylvania, New Jersey, Georgia). This year in 2020, the designs will honor Connecticut, Massachusetts, Maryland, and South Carolina. The goal of the United States Mint's American Innovation $1 Coin Program is to honor innovation and innovators from each State, District of Columbia, Puerto Rico, Guam, American Samoa, U.S. Virgin Islands, and Northern Mariana Islands.
Specifics about the Massachusetts dollar coin start with AIP (Artistic Infusion Program) designer Emily Damstra in the design seat and Sculptor-Engraver Eric David Custer as the Mint engraver. Massachusetts honors the invention and creation of the telephone. The reverse design itself depicts a dial of an early rotary phone. The design also features the inscriptions: "MASSACHUSETTS," "TELE-PHONE," and "UNITED STATES OF AMERICA."
Boston local Alexander Graham Bell spoke the famous words "Mr. Watson---come here---I want to see you" on March 7, 1876. He spoke them into a device he created to transmit the human voice. Thomas Watson was Bell's assistant and was sitting in the next room when those words were spoken. The message was received and our form of communication changed forever. Alexander Graham Bell was granted a patent for his invention of the telephone and he would end up making one of the greatest impacts on human civilization worldwide.
The obverse design of the coin will feature the Statue of Liberty design that will remain constant throughout the multi-year series. "IN GOD WE TRUST" can be seen on the design as well as the denomination of "$1". A privy mark can be seen in the form of a gear representing the series as a whole in its attempt to honor and represent industry and innovation. The edge of the Uncirculated design will be incused and inscribed with "2020," the "P" or "D" mintmark representing either Philadelphia or Denver, and "E PLURIBUS UNUM."