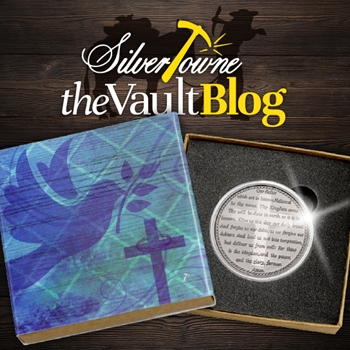 We have always taken great pride in the fact that our silver bullion options have only expanded over the years. We have a bigger selection of themed bullion pieces than ever before and we only hope to make that grow. One of those collections that have been steadfast for us is our religious themed silver. While more of those pieces tend to fly off the shelves during certain points of the year like Easter or Christmas, they are available all year round. For the month of October, we decided to highlight one of those popular pieces for our silver of the month. Not sure what that means or need a refresher? Pay close attention to the paragraph below.
Do you like free shipping? Of course, you do. Do you like the opportunity to get silver without having to buy more than what you want? Who doesn't? Welcome to our unofficial official silver of the month club where you do not have to sign up or enter any more information than necessary. All you have to do as a loyal SilverTowne customer is scroll to the bottom right of the homepage to figure out what piece of silver is featured each month and boom, you are in!
Custom minted at our very own SilverTowne Mint in rural Indiana, the obverse of this .999 fine silver medallion is inscribed with the entire Lord's Prayer with a decorative edge around the rim of the design. The background has a frosted finish with a contrasting prooflike finish featured in the center with a cross. The reverse of the round features our non-dated back with the weight (ONE OUNCE) and purity designation (.999 FINE SILVER) inscribed around the area designated for optional engraving.
Found in the gospel of Matthew in the New Testament of the Holy Bible, the Lord's Prayer was spoken by Jesus to God the Father during the "Sermon on the Mount" to teach the disciples how to pray. This prayer still serves as an example to Christians everywhere. It reads as follows: Our Father which art in heaven, Hallowed be thy name. Thy Kingdom come. Thy will be done in earth, as it is in heaven. Give us this day our daily bread. And forgive us our debts, as we forgive our debtors. And lead us not into temptation, but deliver us from evil: For thine is the kingdom, and the power, and the glory, forever. Amen.
Your Lord's Prayer silver medallion will come protected in a plastic capsule that fits inside of our in-house designed SilverTowne gift box made in the United States from recycled natural kraft paper. Fitting directly inside the box is a custom premium dark grey foam insert to hold your silver round snug. Complete this silver of the month purchase with a religious-themed outer box sleeve or choose from a number of alternate packaging options at check out. The sleeves are specially designed for optimal personalization as they feature a blank area on the back for special messages. Gift-giving has never been easier and more convenient as gift wrapping is not needed!