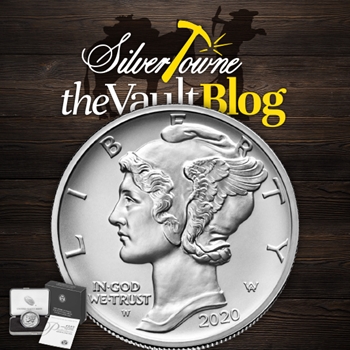 Listen up collectors, we have a big release from the United States Mint happening today! Available at 12pm EST, the fourth coin in the American Eagle One-Ounce Palladium coin series will be ready for the taking!
Starting in 2017 with the bullion edition, the Mint has followed the series up with a collector Proof Palladium coin in 2018 and a Reverse Proof in 2019. For the first time ever, they will now be offering the 2020 coin in an Uncirculated finish containing one ounce of .9995 palladium.
Minted at West Point, the obverse of the coin will be in high relief and focus around the likeness of "Winged Liberty" inspired by the Mercury dime originally designed by the one and only Adolph A. Weinman. "LIBERTY," IN GOD WE TRUST," "2020," and Weinman's initials also are inscribed on the obverse design. The reverse features yet another high relief finish with another design inspiration from Weinman. This time, the reverse depicts the 1907 American Institute of Architects Gold Medal reverse that features both an eagle and a branch. "UNITED STATES of AMERICA," "$25,"1 OZ. Pd" (Pd is the chemical symbol for palladium), ".9995 FINE," and "E PLURIBUS UNUM" can all be seen inscribed on the coin.
Every Uncirculated coin will come encapsulated and packaged in a grey presentation case with a satin lining. Accompanied by a Certificate of Authenticity, the coin is capped at 10,000 in both mintage and product limits with a household order limit of just one. An issue price has yet to be released from the Mint.